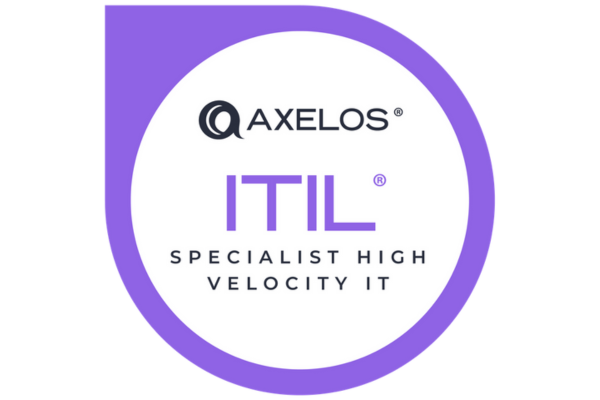 ITIL® 4 Specialist: High Velocity IT Self-Paced Online Course & Examination
self-paced
Our ITIL 4 Specialist; High Velocity IT e-learning course includes instructor-led video content, reading materials and downloadable resources. These materials are designed to give you the confidence to pass your examination and provide you with a great understanding of this ITIL 4 module. 
Candidates have access to their online course portal for 6-months. An internet connection is required to access the portal. 
Our course will prepare you for the examination leading to the ITIL 4 Specialist; High Velocity IT Certificate and includes:

PeopleCert ITIL 4 HIT online exam voucher
Take2 exam re-sit (activated upon a 'failed' 1st attempt)
Official AXELOS publication available as an eBook 
The ITIL 4 Foundation certification is the pre-requisite and must be achieved prior to starting this course. ITSM Hub will request a copy of your certificate upon purchase.
Course Overview
This module explores the ways in which digital organisations and digital operating models function in high velocity environments. It will help aspiring organisations, to operate in a similar way to successful digitally-native organisations. This module includes the use of working practices such as Agile and Lean, and technical practices and technologies such as Cloud, Automation, and Automatic Testing, focusing on rapid delivery of products & services to obtain maximum value.
As organisations use information and related technologies to do business differently, the ability to rapidly launch new products and services to keep up with the competition becomes critical. To compete in this high–velocity environment, organisations must greatly intensify their agility, speed, cost–effectiveness, and responsiveness.
This course encompasses the ways in which organisations and digital operating models function in high–velocity environments, with a focus on the quick delivery of products and services to gain maximum business value.
This qualification will provide IT practitioners with an understanding of working practices like Agile and Lean, and technical practices and technologies such as cloud, automation, and automatic testing.
The HIT course focuses on these key ITIL 4 practices:
Architecture management
Business analysis
Deployment management
Service validation and testing
Software development and management
Availability management
Capacity and performance management
Infrastructure and platform management monitoring and event management
Problem management
Service continuity management
Relationship management
Service design
Service desk
Information security management
Risk management
Learning Outcomes
Understand the concepts regarding the high-velocity nature of the digital enterprise, including the demands it places on IT:

Learn when the transformation to high-velocity IT is desirable and feasible

Understand the digital product life cycle in terms of the ITIL "operating model"
Understand the importance of the ITIL guiding principles and the other fundamental concepts for delivering high-velocity IT
Discover how to contribute to achieving value with digital products

Learn how the service provider ensures valuable investments are achieved
Learn how the service provider ensures fast deployment is achieved
Learn how the service provider ensures resilient operations are achieved
Learn how the service provider ensures co-created value is achieve
Learn how the service provider ensures assured conformance is achieved
Who should attend
This course is aimed at individuals in management and service management roles who have a responsibility for the above noted practices as well as individuals who want to acquire the ITIL Managing Professional (MP) designation.
Roles may include:
Customer/User Experience (CX) Managers/Designers
Account Managers
Service Delivery Managers
Service Level Managers
Enterprise/Service and Solution Architects
Business Analysts
Project Managers
Portfolio Managers
Supplier Relationship Managers
Vendor Managers
Contract Managers
Prerequisites
For this course you are required to have successfully attained your ITIL 4 Foundation certificate. You will need to provide us with a copy of your certificate upon registration in order to be admitted into this course. To look at available dates for the ITIL 4 Foundation Certification Course, click here.
Exam & Certification
This course prepares participants for the examination leading to the ITIL 4 Specialist - High Velocity IT Certificate. A 90-minute, 40 question, multiple-choice exam is administered by an independent examination body, PeopleCert. A passing mark of 70% is required to receive your certificate. 
The exam is provided as an online examination voucher, upon completing your course you will receive an email from PeopleCert with information on how to register and schedule your exam. The examination is 90 minutes, please allow for an additional 30 minutes for set up and authentication. You will require a photo identification, quiet space, webcam, speakers and a reliable internet connection. 
The exam schedule is available 24/7 so you can sit your exam at a time that suits you. Your voucher will be valid for 12 months, we do recommend you complete your examination as close to the course date as you can – this is when the information is fresh and relevant.  
Course Material & Inclusions
Access to your own online learning portal for 6-months to work through the course materials and prepare for the examination. The course is delivered via downloadable resources, exams and instructor videos. Instructor assistance is available via email.
ITIL 4 Specialist: High Velocity IT online exam voucher plus a complimentary exam re-sit is included if you miss out on passing your examination the first time. (exam re-sit included for our virtual instructor-led classes only)
The official ITIL 4 publication available from AXELOS is included as an eBook and provided as a voucher for the candidate to download from PeopleCert on the first day of the course.
SFIA Skills & Industry Accreditation

After completion of this course, you may apply for self-directed learning PDU's through PMI. A certificate of attendance is available upon request. 
This course enables participants to develop their knowledge and proficiency in the following Skills Framework for the Information Age (SFIA®) professional skills:
METL: Methods and tools

RLMT: Stakeholder Relationship Management

ITMG: Technology Service Management
SEAC: Service Acceptance
This list gives the core SFIA skills covered by the course.  Elements relevant to other SFIA skills may also be included to a lesser depth.  Proficiency in a SFIA skill is measured by performance assessment and is achieved through actual substantial use of that skill in a real-world situation over some time. In course assignments and exercises undertaken through a course can demonstrate elements of the relevant skills which can then be further developed back in the workplace.  Acquiring new skills and building on existing skills, ideally occurs within the context of an agreed development plan for each person that ensures that their personal circumstances, strengths and development needs are met.
An amazing instructor who explained the content very clearly and at a very good pace. This was a good balance and approach to learning in a three day intensive period. I found the worked examples very practical and very relatable to the Defence industry sector I work in.
Satisfied Customer
Really good facilitation, kept me interested and shared so many practical applications.
Satisfied Customer
Gave me a better understanding of concepts, theories and tools to formalise and improve my current relationship management.
Satisfied Customer
The instructor was very professional and was able to explain each area thoroughly and is available for Q&A.
Satisfied Customer