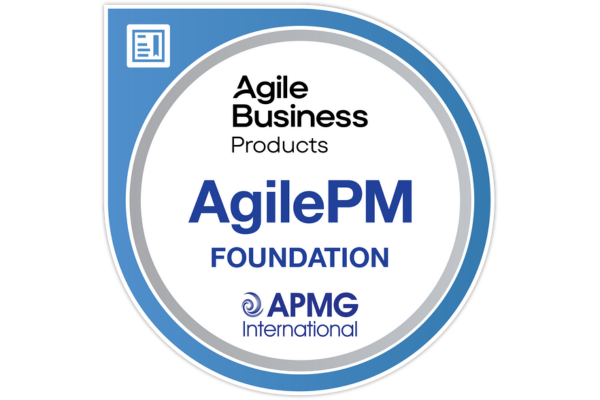 Agile Project Management Foundation Course & Examination
instructor-led
Increasing numbers of individuals and organisations are turning to Agile project management practices as they seek to increase the success of – and return on investment from – projects and other change initiatives. Our 3-day AgilePM Foundation course prepares you for the exam leading to the AgilePM Foundation Certification.  
This course is held in our virtual classroom with our expert instructor, meaning you can join the class and network with your peers from anywhere with an internet connection. 
Course Overview
AgilePM Foundation introduces the DSDM Agile Project Management framework, a pragmatic and repeatable methodology. AgilePM training and certification is based on the AgilePM Handbook, published by the Agile Business Consortium.
This course explains how to prepare for and run an agile project, highlighting documentation, techniques, roles and responsibilities recommended within the framework. Learn how to flex and deliver projects rapidly to meet your customer needs. 
This course will include the following topics: 
What is Agile? Choosing an appropriate Agile approach

 

Philosophy, Principles and Project Variables

 

Preparing for Success

 

The DSDM Process 

 

The People – DSDM Roles and Responsibilities

 

The DSDM Products

 

Key Practices - Prioritisation and Timeboxing

 

Planning and Control throughout the Lifecycle

 

Other practices: Facilitated Workshops, Modelling, and Iterative Development.
Learning Outcomes
Upon the successful completion of this course, you will understand: 
The definition and purpose of Agile
The three pillars of Scrum: inspection, adaptation, and transparency
The five Scrum values: commitment, focus, openness, respect, and courage
The characteristics of effective Scrum Masters, product owners, and development teams
The purposes of different events, artifacts, and rules in Scrum
How multilevel planning can help your team develop long-term goals and create more realistic strategies to achieve those goals
How to identify the attributes of the product backlog and understand how it can evolve as your product and environment changes
The techniques for managing technical debt
The purpose and steps involved in Scrum events such as product backlog grooming, sprint planning, execution, daily Scrum, review, and retrospective
Who should attend
This course is applicable to any IT professionals with a need to understand how to achieve and maintain a highly effective approach to project management.
Practising project managers.

 

Agile team members looking to become Agile Project Managers.

 

Individuals pursuing the AgilePM Practitioner Certificate.

 
Prerequisites
There are no prerequisites for this course.
Exam & Certification
This course prepares participants for the examination leading to Agile PM Foundation certificate, granted by APMG International: 
Exam is 40 minutes; closed book

 

50 multiple-choice questions (a passing score of 50% – 25 correct answers - is required)

 

You will receive an exam voucher for the web-based exam, to be scheduled after the course.

 

Upon passing your exam a digital badge will be awarded by APMG International.

 
Course Material & Inclusions
This course comes with access to our e-materials. Material for this course will be provided as downloadable soft-copy files that can be viewed on a variety of devices. Attendees may print a hard copy of the files in whatever format best meets their needs. 
A complimentary copy of the book, Agile Project Management Handbook v2.0, will be provided as an eBook on the first morning of the course. 
Our virtual instructor-led classes include a $25 lunch voucher for each day (valued at $75), this means you can get your lunch organised whether you do it from home or the office. The voucher is provided via email on the first morning of the course. 
AgilePM Foundation online exam voucher, this is issued from APMG International (global examination body) on the first morning of the course. The schedule is available 24/7 so you can book and register for your exam at a time that suits. A webcam and internet connection is required. 
Upon passing your certification course, a digital badge will be available for you to share with your network. 
An amazing instructor who explained the content very clearly and at a very good pace. This was a good balance and approach to learning in a three day intensive period. I found the worked examples very practical and very relatable to the Defence industry sector I work in.
Satisfied Customer
Really good facilitation, kept me interested and shared so many practical applications.
Satisfied Customer
Gave me a better understanding of concepts, theories and tools to formalise and improve my current relationship management.
Satisfied Customer
The instructor was very professional and was able to explain each area thoroughly and is available for Q&A.
Satisfied Customer