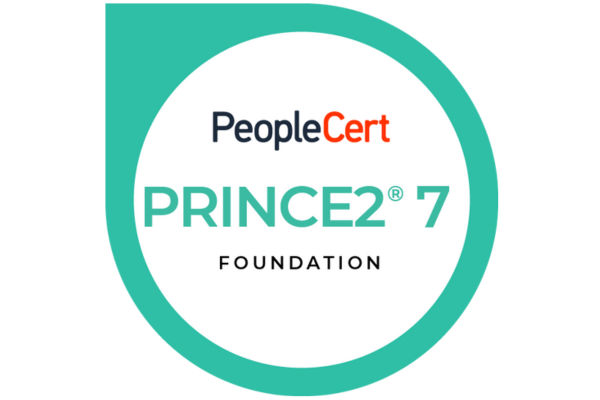 PRINCE2® 7 Foundation Course & Examination
instructor-led
PRINCE2 was first launched in 1996, and has had six editions, the last update being in 2017. This PRINCE2 7 edition seeks to respond to a number of changes that have taken place in our world and in the discipline of project management since then. 
The PRINCE2 7 Foundation certification is a prerequisite for the PRINCE2 7 Practitioner certification.  
This 3-day course is held in our virtual classroom with our expert instructor, you can join the class and network with your peers from anywhere with an internet connection. 
Course Overview
PRINCE2 is a globally recognized and established project management method that offers a structured, scalable, and tailorable approach to project management. Its focus on governance, risk management, and benefits realisation sets it apart from other qualifications. By integrating agile concepts and emphasizing tailoring, the new PRINCE2 is even more adaptable to diverse project environments. 
PRINCE2 7 addresses changes in the project management sector and adapts to evolving working practices and technologies.  
Key Updates for Emboldening Success: 
Central Focus on People Management, 

recognising the importance of human capital in project success. 

Enhanced Flexibility and Customisation, adapting to the unique requirements of each project, across sectors
Embracing Digital and Data Management, equipping you with the right tools to keep your projects up to date in the digital era.
Integration of Sustainability to Project Performance, aligning projects with environmental and social responsibility goals.
Compatibility with Agile, Lean and ITIL, enhancing overall project performance. 
Designed for all professionals, including aspiring or experienced project managers, using simplified language and content which makes it more accessible to all. 
Why get PRINCE2 7 Foundation? 
A "how to" method that enables effective project management
Improve communication & collaboration between teams
Increase efficiency & visibility 
Get your skills recognised
Ge in-demand project management skills relevant to a range of roles
Improve job opportunities and salary prospects
Learning Outcomes
At the end of your PRINCE2 7 Foundation course, candidates will have an understanding of the following:
The definition and characteristics of a project

 

What makes a project a PRINCE2 project

The features and benefits of PRINCE2

The role of project management

The seven aspects of project performance to be managed

The PRINCE2 principles

The integrated elements of PRINCE2 

Overview of PRINCE2 processes

The user/supplier context

Applying and tailoring PRINCE2
Who should attend

This certification is aimed at current and aspiring project managers or professionals who manage projects, certified or uncertified. It is also relevant to anyone aiming to enhance their project management skills.
Prerequisites
There are no pre-requisites for the PRINCE2 7 Foundation course however there will be pre-course work and homework assignments during the course. 
Exam & Certification
This course prepares participants for the examination leading to the PRINCE2 Foundation Certificate.
A 60-minute, 60 question, multiple-choice exam is administered by an independent examination body, PeopleCert. 
A passing mark of 60% is required to receive your certificate.
The exam is provided as an online examination voucher, upon completing your course you will receive an email from PeopleCert with information on how to register and schedule your exam. The examination is 60 minutes, please allow for an additional 30 minutes for set up and authentication. You will require a photo identification, quiet space, webcam, speakers and a reliable internet connection.
The exam schedule is available 24/7 so you can sit your exam at a time that suits you. Your voucher will be valid for 12 months, we do recommend you complete your examination as close to the course date as you can – this is when the information is fresh and relevant.
A Take2 exam re-sit is included if there is a 'failure' result from the first attempt. Take2 will not be available from a missed or absent exam attempt.
Course Material & Inclusions

This course comes with access to PeopleCert's official training e-materials. The Learner Kit includes: 
Course workbook/slideshow for students to download, or view on laptop or tablet devices

Official AXELOS practice examinations

Quick reference and exam guidance materials
Our virtual instructor-led classes include a $25 lunch voucher (valued at $75), this means you can get your lunch organised whether you do it from home or the office. The voucher is provided via email on the first morning of the course. 
The official PRINCE2 7 Foundation publication included as an eBook.  This will be provided on the first morning of the course as part of your PeopleCert exam voucher. When you redeem your PeopleCert Voucher Code, there will be a new eBook in the 'My eBooks' section of your PeopleCert Account.
The PRINCE2 7 Foundation online examination voucher, conducted via PeopleCert using the online web proctored service which is available 24/7.
A Take2 exam re-sit is included if there is a 'failure' result from the first exam attempt. Take2 will not be available from a missed or absent exam attempt.
1-month free AXELOS subscription: MyAXELOS is PeopleCert's exclusive membership programme that helps you prepare for your exam and continuously stay up to date with the ITIL, PRINCE2, MoR, MOP, P30, MoV, Resilia, AgileShift frameworks.
SFIA Skills & Industry Accreditation

After completion of this course, you may apply for self-directed learning PDU's through PMI. A certificate of attendance is available upon request.
This course enables participants to develop their knowledge and proficiency in the following Skills Framework for the Information Age (SFIA®) professional skills:
METL: Methods and tools
PRMG: Project Management

PROF: Portfolio, Programme and Project Support
This list gives the core SFIA skills covered by the course. Elements relevant to other SFIA skills may also be included to a lesser depth. Proficiency in a SFIA skill is measured by performance assessment and is achieved through actual substantial use of that skill in a real-world situation over some time. In course assignments and exercises undertaken through a course can demonstrate elements of the relevant skills which can then be further developed back in the workplace.  Acquiring new skills and building on existing skills, ideally occurs within the context of an agreed development plan for each person that ensures that their personal circumstances, strengths and development needs are met.
An amazing instructor who explained the content very clearly and at a very good pace. This was a good balance and approach to learning in a three day intensive period. I found the worked examples very practical and very relatable to the Defence industry sector I work in.
Satisfied Customer
Really good facilitation, kept me interested and shared so many practical applications.
Satisfied Customer
Gave me a better understanding of concepts, theories and tools to formalise and improve my current relationship management.
Satisfied Customer
The instructor was very professional and was able to explain each area thoroughly and is available for Q&A.
Satisfied Customer