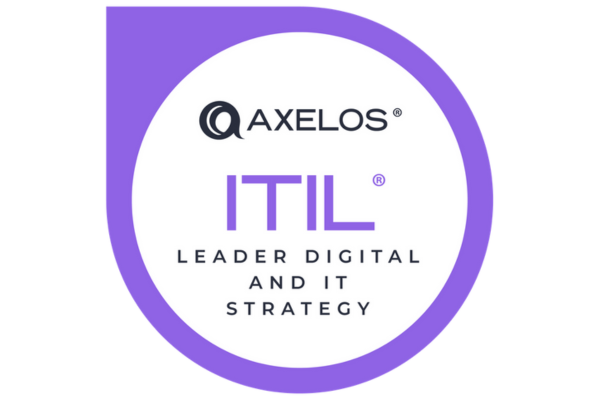 ITIL® 4 Leader: Digital & IT Strategy Course & Examination
instructor-led
The IT and Digital Strategy module adds a new perspective to the ITIL suite and elevates the discussion around ITIL concepts to a strategic level among business leaders and aspiring leaders. The ITIL 4 Foundation certification is the pre-requisite to attend this class. 
Course Overview
This module will focus on the alignment of digital business strategy with IT strategy. The module also covers how disruption from new technologies are impacting organisations in every industry and how business leaders are responding. The pace of evolution in the digital world has never been so fast and organisations need to be flexible and adapt to the ever-changing environment if they want to keep providing value to their customers while remaining competitive in the marketplace. 
The module will help IT leaders and aspiring leaders build and implement effective IT and digital strategy that can tackle digital disruption and drive success. With the speed at which digital technologies are evolving, organisations have had to accelerate the adoption of a flexible, digital transformation strategy that includes a holistic approach spanning across the enterprise. 
The unavoidable interaction between people, digital technologies, and physical assets has created an increasingly fast-paced and complex environment that requires organisations to be more agile, better equipped to adapt what they do, and ready to adopt new ways of working to remain competitive. 
For leaders, the development of a digital transformation strategy comes with its own distinct set of challenges – from both a technical and cultural perspective. 
The course agenda covers the following ITIL 4 practices to help you understand the major factors that contribute to the successful ITIL 4 Strategic Leader: Digital & IT Strategy: 
Architecture Management

Continual Improvement

 

Knowledge Management

 

Measurement and Reporting Management

 

Organisational Change Management

 

Portfolio Management

Project Management

 

Relationship Management

 

Risk Management

 

Service Financial Management

 

Strategy Management

Workforce and Talent Management

 
This course is ideal for IT leaders and aspiring leaders who want to develop the essential skills required to overcome digital disruption from new technologies. The all-new course structure is taught through interactive case studies and practical hands-on exercises. This ensures participants will learn a structured and flexible approach for addressing service management challenges as well as how to get the most value from their digital property. 
Learning Outcomes
Upon the successful completion of this course, you will have the ability to: 
Demonstrate the use of ITIL guiding principles in digital and IT strategy decisions and activities

 

Relate the concepts of digital and IT strategy, the service value system (SVS), and the service value chain, as well as explain how they work together to create value in markets that are being transformed by digital and information technology

 
You will also gain a clear understanding of: 
Why organisations need to change the way they do business in markets disrupted by digital and information technology, and relate this to the concepts of strategy they will need to master as they make these changes

How an organisation uses their digital and IT strategy to remain viable in environments disrupted by digital technology

 

The strategic approaches made possible by digital and information technology to achieve customer/market relevance and operational excellence

 

The risks and opportunities of digital and IT strategy

 

The steps and techniques involved in defining and advocating for a digital and IT strategy

 

How to implement a digital and IT strategy

 
Who should attend
This course is for IT and business directors, heads of departments, aspiring business leaders, and other business professionals across the organisation who are looking for guidance that will help them craft a digital vision, shape an IT and business strategy, and drive organisational change. 
Prerequisites
For this course you are required to have successfully attained your ITIL 4 Foundation certificate. You will need to provide us with a copy of your certificate upon registration in order to be admitted into this course. To look at available dates for the ITIL 4 Foundation Certification Course, click here.
It is also highly recommended you have a minimum of 3 years IT management experience. This is a strategy course with a lot of business (MBA level) content so having management or business experience is highly recommended to ensure you get the most out of the course and content. 
Exam & Certification
This course prepares participants for the examination leading to the ITIL 4 Leader: Digital & IT Strategy Certificate.  
ITIL 4 Leader: Digital and IT Strategy includes four case study assignments that are graded in-session and a multiple-choice exam taken subsequent to the training course. 
Candidates must pass all the case study assignments to take the exam. This will be confirmed to candidates by the trainers before the end of the training. 
Candidates who fail to complete the case study assignments in-session may be given an additional individual written assignment that is based on the same case study. 
The exam is provided as an online examination voucher, upon completing your course you will receive an email from PeopleCert with information on how to register and schedule your exam. Please allow for an additional 30 minutes for set up and authentication. You will require a photo identification, quiet space, webcam, speakers and a reliable internet connection. 
The exam schedule is available 24/7 so you can sit your exam at a time that suits you. Your voucher will be valid for 12 months, we do recommend you complete your examination as close to the course date as you can – this is when the information is fresh and relevant.  
A Take2 exam re-sit is included if there is a 'failure' result from the first attempt. Take2 will not be available from a missed or absent exam attempt.
Course Material & Inclusions
This course comes with access to our e-materials. The e-materials include: 
Course workbooks/slideshow for students to download, or view on laptop or tablet devices

 

Official AXELOS ITIL practice exams

 

Course reference and exam guidance materials

 

Comprehensive study guide to assist with exam preparation

 
Our virtual instructor-led classes include a $25 lunch voucher for each day (valued at $75), this means you can get your lunch organised whether you do it from home or the office. The voucher is provided via email on the first morning of the course. 
ITIL Leader - Digital & IT Strategy online exam voucher, valid for 12-months
A Take2 exam re-sit is included if there is a 'failure' result from the first attempt. Take2 will not be available from a missed or absent exam attempt. 
The official ITIL 4 publication available from AXELOS is included as an eBook and provided as a voucher for the candidate to download from PeopleCert.
SFIA Skills & Industry Accreditation

After completion of this course, you may apply for self-directed learning PDU's from PMI. A certificate of attendance is also available upon request. 
This course enables participants to develop their knowledge and proficiency in the following Skills Framework for the Information Age (SFIA®) professional skills: 
GOVN: Governance

 

ITSP: Strategic Planning

 

STPL: Enterprise and Business Architecture

 

OCDV: Organisational Capability Development

 

ORDI: Organisation Design and Implementation

 

RLMT: Stakeholder Relationship Management

 

BURM: Risk Management

 

ITMG: Technology Service Management

 

POMG: Portfolio Management 

 
This list gives the core SFIA skills covered by the course.  Elements relevant to other SFIA skills may also be included to a lesser depth.  Proficiency in a SFIA skill is measured by performance assessment and is achieved through actual substantial use of that skill in a real-world situation over some time. In course assignments and exercises undertaken through a course can demonstrate elements of the relevant skills which can then be further developed back in the workplace.  Acquiring new skills and building on existing skills, ideally occurs within the context of an agreed development plan for each person that ensures that their personal circumstances, strengths and development needs are met. 
An amazing instructor who explained the content very clearly and at a very good pace. This was a good balance and approach to learning in a three day intensive period. I found the worked examples very practical and very relatable to the Defence industry sector I work in.
Satisfied Customer
Really good facilitation, kept me interested and shared so many practical applications.
Satisfied Customer
Gave me a better understanding of concepts, theories and tools to formalise and improve my current relationship management.
Satisfied Customer
The instructor was very professional and was able to explain each area thoroughly and is available for Q&A.
Satisfied Customer