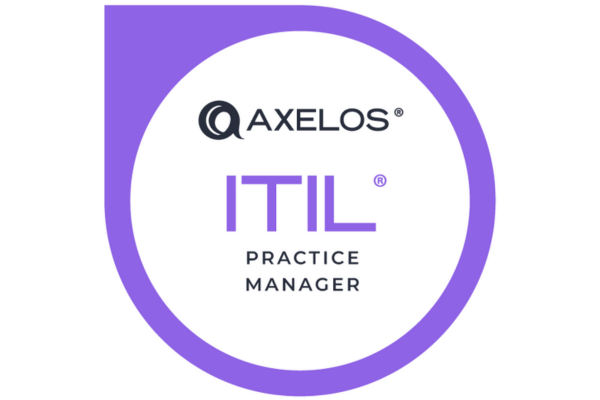 ITIL® Practice Manager (PM) Course & Exam Bundle
instructor-led
Get a bundle that includes the courses to achieve ITIL 4 Practice Manager (PM) courses for one low price!
You will be able to complete our instructor-led courses which are held in our virtual classroom. You have 12 months to attend and complete the 3 courses. Once you have passed all the examinations you will achieve the ITIL Practice Manager designation.
Bundle Overview
We have everything you need when it comes to all things ITIL 4 and we want to offer you a fast-track to achieving the coveted ITIL PM designation at the best possible price, in the easiest possible way. That's why we've introduced the ITIL 4 Practice Manager Bundle.
The bundle includes the mandatory courses including:
Then you can choose 1 of the of following to achieve your Practice Manager designation
Click on the course title to get access to course descriptions.
Here's how the training bundle works:
Take live, virtual instructor-led courses on specific dates throughout the year; hosted live online by our expert instructor. See individual course pages for dates and times, or discuss your options with one of our team members. 
Begin with the ITIL 4 Foundation live, virtual, instructor-led course.
Choose from any of the remaining live, virtual instructor-led courses in the order you would like, our team is always here to help answers your questions if you don't know where to start.
Take the live, virtual instructor-led courses any time over 12 months to achieve your ITIL Practice Manager (PM) designation!
Prerequisites
The ITIL 4 Foundation course is a prerequisite for all other PM courses. There is no prerequisite for the ITIL 4 Foundation course.
Exam & Certification
Exams and official eBooks are included with all courses. Please see each of the individual courses for details.
An amazing instructor who explained the content very clearly and at a very good pace. This was a good balance and approach to learning in a three day intensive period. I found the worked examples very practical and very relatable to the Defence industry sector I work in.
Satisfied Customer
Really good facilitation, kept me interested and shared so many practical applications.
Satisfied Customer
Gave me a better understanding of concepts, theories and tools to formalise and improve my current relationship management.
Satisfied Customer
The instructor was very professional and was able to explain each area thoroughly and is available for Q&A.
Satisfied Customer