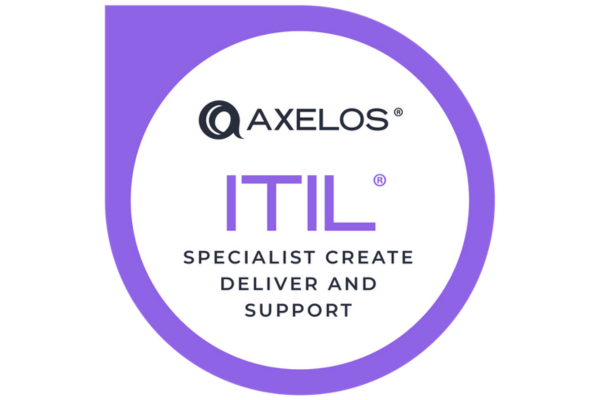 ITIL® 4 Specialist: Create, Deliver & Support Course & Examination
instructor-led
The ITIL Specialist: Create, Deliver & Support (CDS) is one of five courses needed to achieve ITIL 4's Managing Professional (MP) designation. This course leads to the ITIL 4 Create, Deliver & Support certification and the ITIL 4 Foundation certification is a pre-requisite to attend this class. 
Our course is held in our virtual classroom over 3-days with our expert instructor, meaning you can join the class and network with your peers from anywhere with an internet connection. 
Course overview
This ITIL module covers the 'core' service management activities and expands the current scope of ITIL to cover the 'creation' of services. This module focuses on the integration of different value streams and activities to create, deliver and support IT-enabled products and services whilst also covering supporting practices, methods and tools. This module will also cover service performance and will give practitioners an understanding of service quality and improvement methods.
The course agenda covers the following ITIL 4 practices to help you understand the major factors that contribute to the successful creation, delivery, and support across ITIL's new service value system (SVS) business model:

Service design price and orchestration
Software development and management
Deployment management
Release management
Service validation and testing
Change enablement
Ensuring stakeholder satisfaction
Service Desk
Incident management – detection and resolution
Problem management
Knowledge management
Service level management
Monitoring and event management
Learning Outcomes
Understand how to plan and build a service value stream to create, deliver, and support services:

Learn the concepts and challenges that relate to organisational structure, team capabilities, roles, and culture across the SVS
Understand the value of positive communications
Understand the planning and management of resources in the SVS
Understand the value and use of IT across the SVS

Discover how relevant ITIL practices contribute to creation, delivery, and support across the SVS and value streams:

Learn how to design, develop, and transition a value stream using ITIL practices
Learn how to better provide user support using ITIL practices

Learn how to create, deliver, and support services:

Discover how to prioritise, structure, and coordinate work and activities
Understand buy versus build considerations, sourcing options, and service integration management (SIAM)
Who should attend
This course is aimed at IT service management practitioners who are seeking to obtain the ITIL Managing Professional (MP) designation, and/or responsible for the operation of IT-enabled and digital services and for end-to-end support and delivery.
Roles include:
Service Desk Directors/Managers;
IT Infrastructure & Support Directors/Managers;
Problem, Change, and Release Managers;
DevOps Directors/Managers;
Continual Improvement Program/Project Directors/Managers;
Senior Service & Support Analysts;
Process/Practice Owners;
Service Level Management Directors/Managers.
Prerequisites
For this course you are required to have successfully attained your ITIL 4 Foundation certificate. You will need to provide us with a copy of your certificate upon registration in order to be admitted into this course. To look at available dates for the ITIL 4 Foundation certification course, click here.
Exam & Certification
This course prepares participants for the examination leading to the ITIL 4 Specialist – Create, Deliver & Support Certificate.
A 90-minute, 40 question, multiple-choice exam is administered by an independent examination body,

PeopleCert

.

A passing mark of 70% is required to receive your certificate.

 
The exam is provided as an online examination voucher, upon completing your course you will receive an email from PeopleCert with information on how to register and schedule your exam. The examination is 90 minutes, please allow for an additional 30 minutes for set up and authentication. You will require a photo identification, quiet space, webcam, speakers and a reliable internet connection. 
The exam schedule is available 24/7 so you can sit your exam at a time that suits you. Your voucher will be valid for 12 months, we do recommend you complete your examination as close to the course date as you can – this is when the information is fresh and relevant.  
A Take2 exam re-sit is included if there is a 'failure' result from the first attempt. Take2 will not be available from a missed or absent exam attempt.
Course Material & Inclusions
This course comes with access to our e-materials. The e-materials include: 
Course workbooks/slideshow for students to download, or view on laptop or tablet devices

 

Official AXELOS ITIL practice exams

Course reference and exam guidance materials

 

Comprehensive study guide to assist with exam preparation

 
Our virtual instructor-led classes include a $25 lunch voucher for each day (valued at $75), this means you can get your lunch organised whether you do it from home or the office. The voucher is provided via email on the first morning of the course.  
ITIL 4 Specialist: Create, Deliver & Support online exam voucher, valid for 12-months.
A Take2 exam re-sit is included if there is a 'failure' result from the first attempt. Take2 will not be available from a missed or absent exam attempt.
The official ITIL 4 publication available from AXELOS is included as an eBook and provided as a voucher for the candidate to download from PeopleCert.
SFIA Skills & Industry Accreditation

You may apply for self-directed learning PDU's through PMI. A certificate of attendance is available upon request. 
This course enables participants to develop their knowledge and proficiency in the following Skills Framework for the Information Age (SFIA®) professional skills:
METL: Methods and tools
CIPM: Organisational Change Management
ITMG: Technology Service Management
This list gives the core SFIA skills covered by the course.  Elements relevant to other SFIA skills may also be included to a lesser depth.  Proficiency in a SFIA skill is measured by performance assessment and is achieved through actual substantial use of that skill in a real-world situation over some time. In course assignments and exercises undertaken through a course can demonstrate elements of the relevant skills which can then be further developed back in the workplace.  Acquiring new skills and building on existing skills, ideally occurs within the context of an agreed development plan for each person that ensures that their personal circumstances, strengths and development needs are met.
An amazing instructor who explained the content very clearly and at a very good pace. This was a good balance and approach to learning in a three day intensive period. I found the worked examples very practical and very relatable to the Defence industry sector I work in.
Satisfied Customer
Really good facilitation, kept me interested and shared so many practical applications.
Satisfied Customer
Gave me a better understanding of concepts, theories and tools to formalise and improve my current relationship management.
Satisfied Customer
The instructor was very professional and was able to explain each area thoroughly and is available for Q&A.
Satisfied Customer