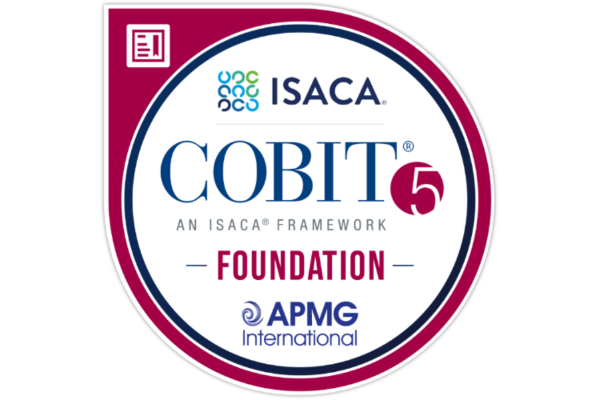 COBIT® 5 Foundation Course & Examination
instructor-led
What is COBIT 5? COBIT 5 is the only business framework for the governance and management of enterprise IT.
ISACA's globally accepted framework provides the principles, practices, analytical tools and models to help increase trust in, and value from, information systems. APMG International is the accreditation body, who ensures COBIT training is delivered to a consistently high standard.
Course Overview

This 3 day COBIT 5 Foundation course is from ISACA and accredited by APMG International.
The purpose of the COBIT 5 Foundation certificate is to confirm that a candidate has sufficient knowledge and understanding of the COBIT 5 guidance to be able to understand the enterprise Governance and Management of Enterprise IT, create awareness with their business executives and senior IT Management; assess the current state of their Enterprise IT with the objective of scoping what aspects of COBIT 5 would be appropriate to implement.
COBIT 5 helps enterprises of all sizes, regardless of sector:
Maintain high quality information to support business decisions
Achieve strategic goals and realize business benefits through the effective and innovative use of IT
Achieve operational excellence through reliable, efficient application of technology
Maintain IT-related risk at an acceptable level
Optimize the cost of IT services and technology
Support compliance with relevant laws, regulations, contractual agreements and policies
COBIT 5 Foundation delves into the essential components of COBIT 5 to learn how it covers the business end-to-end and helps you effectively govern and manage enterprise IT. Developed for anyone interested in obtaining a working-level understanding of COBIT 5 and all its elements.
The course explains the COBIT framework and supporting materials systematically and incorporates real-life scenarios to enhance the learner's experience.
Participants will learn more about:
How IT management issues are affecting organisations
The need for an effective framework to govern and manage enterprise IT
How COBIT is used with other standards and best practices
The functions that COBIT provides and the benefits of using COBIT
How to apply COBIT in a practical situation
Learning Outcomes
Upon completion of the COBIT 5 Foundation course, you will be able to demonstrate your understanding of:
The COBIT 5 Product Architecture.
The IT management issues and challenges that affect enterprises.
The 5 Key Principles of COBIT 5 for the governance and management of Enterprise IT.
How COBIT 5 enables IT to be governed and managed in a holistic manner for the entire enterprise.
How the COBIT 5 processes and the Process Reference Model (PRM) help guide the creation of the 5 Principles and the 7 Governance and Management Enablers.
The basic concepts for the Implementation of COBIT 5.
The components and purpose of the Process Reference Guide
The basic concepts of a RACI and how they are used in COBIT 5.
The basic concepts of the new Process Assessment Model.
The COBIT 5 guides and how they interrelate.
Who should attend

Business Management, Chief Executives, IT /IS Auditors, Internal Auditors, Information Security and IT Practitioners; Consultants, IT/IS Management looking to gain an insight into the Enterprise Governance of IT and looking to be certified as a COBIT Implementer or Assessor.
Job roles;
IT Auditors
IT Managers
IT Quality Professionals
IT Leadership
IT Developers
Information Security and IT Practitioners
Prerequisites
There is no prerequisite for this course. Work experience in IT services is recommended.
Exam & Certification
This course prepares participants for the exam leading to the COBIT® 5 Foundation Certification granted by APMG International.
Exam is 40 mins; multiple-choice; closed book
You will receive an exam voucher for the web-based exam, to be scheduled after the course
A passing mark of 50% is required to receive your certificate
Upon passing your exam a digital badge will be awarded by APMG International
Course Material & Inclusions
Material for this course will only be provided as downloadable soft-copy files that can be viewed on a variety of devices. Attendees may print a hard copy of the files in whatever format best meets their needs.
Our virtual instructor-led classes include a $25 lunch voucher for each day (valued at $50), this means you can get your lunch organised whether you do it from home or the office. The voucher is provided via email on the first morning of the course. 

COBIT® 5 Foundation online exam voucher, this is issued on the first morning via APMG. The exam is completed online through APMG and ProctorU, the schedule is available 24/7. A webcam, quiet space and internet connection is required.
A digital badge you can share with your network of your course achievement will be provided via APMG upon achieving the certification.
SFIA Skills and Industry Accreditation
This course enables participants to develop their knowledge and proficiency in the following Skills Framework for the Information Age (SFIA®) professional skills:
METL: Methods and tools
GOVN: Governance
BURM: Risk Management
SCTY: Information security
MEAS: Measurement

AUDT: Audit
QUAS: Quality Assurance
This list gives the core SFIA skills covered by the course. Elements relevant to other SFIA skills may also be included to a lesser depth. Proficiency in a SFIA skill is measured by performance assessment and is achieved through actual substantial use of that skill in a real-world situation over some time. In course assignments and exercises undertaken through a course can demonstrate elements of the relevant skills which can then be further developed back in the workplace.  Acquiring new skills and building on existing skills, ideally occurs within the context of an agreed development plan for each person that ensures that their personal circumstances, strengths and development needs are met.
An amazing instructor who explained the content very clearly and at a very good pace. This was a good balance and approach to learning in a three day intensive period. I found the worked examples very practical and very relatable to the Defence industry sector I work in.
Satisfied Customer
Really good facilitation, kept me interested and shared so many practical applications.
Satisfied Customer
Gave me a better understanding of concepts, theories and tools to formalise and improve my current relationship management.
Satisfied Customer
The instructor was very professional and was able to explain each area thoroughly and is available for Q&A.
Satisfied Customer