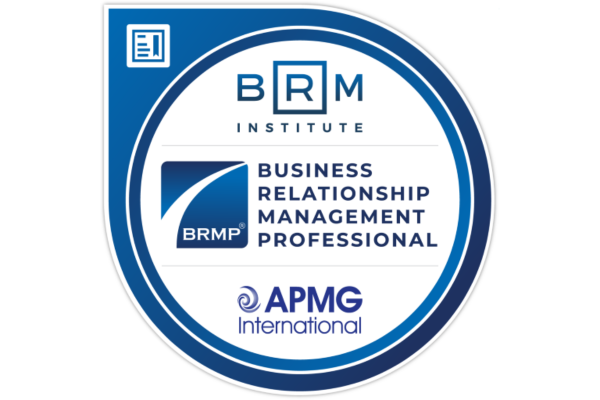 Business Relationship Management Professional Course & Examination
instructor-led
This 3-day Business Relationship Management Professional (BRMP®) certification course is from BRM Institute and accredited by APMG International. This course prepares you for the exam leading to the Business Relationship Management Professional Certification. 
The BRMP® training and certification program is intended as a comprehensive foundation for Business Relationship Managers (BRM) at every experience level, with the training and certification designed to provide a solid baseline level of knowledge regarding the BRM role and how well-cemented and effective BRM disciplines can positively impact overall business results

Course Overview
This course will cover the following modules:
BRM Introduction – The Bigger Picture
Why BRM? Why Now?
Relationship-Centered Organisation
Theory of Relationshipism
Triple Bottom Line
BRM Defined
Capability
Discipline
Role
Activity Domains
BRM Challenges
Tools included: BRM Role Competency Model
BRM Capability
BRM Capability Framework
Organisational Purpose and Strategy
Organisational Factors
Core Values
Now-to-New
Evolve Culture
Build Partnerships
Drive Value
Satisfy Purpose
Limitless Growth and Improvement
Tools included: BRM Capability workbook, BRM Capability Impact Report workbook, Strategic Relationship Plan
BRM Capability: Evolve Culture
Evolve Culture Framework
Purposeful Narrative
Desired Behaviors/Shared Ownership, Leadership-as-Practice
Influential Relationships
Personal Growth/Growth Mindset
Tools included: Storytelling, Language Matters, Relationship Network Directory
BRM Capability: Build Partnerships
Build Partnerships Framework
BRM Role Competency Model
Relationship Maturity and Quality
Partnering Mindsets
Relationship Discovery
Relationship Nurturing
Tools included: Relationship Maturity Model (RMM), Relationship Strategy on a Page (RSOAP)
BRM Capability: Drive Value
What is Value?
Types of Value
Sources of Value
Drive Value Framework
BRM Role Competency Model
Value Discovery
Value Realisation
Value Results
Tools included: Idea Document, Value Plan, Value Optimisation Report
BRM Capability: Satisfy Purpose
Satisfy Purpose Framework
BRM Role Competency Model
Through the BRM Capability
Through the Triple Bottom Line
Social Value
BRM Role
Our Purpose and What We Believe
Role Clarity
Single Point of Focus
BRM Code of Ethics
BRM Role Competency Model
BRM Mindset
Scope of BRM Role
BRM Role with Organisational Factors
BRM Team
Our Purpose and What We Believe
BRM Team Definition
BRM Team Purpose, Mission, and Vision
Assessing the Value of a BRM Team
Organising a BRM Team
Leading a BRM Team
Transition Management
Coaching BRMs
BRM Key Learnings
A review of the key concepts from each of the preceding modules.
Learning Outcomes
This course provides a thorough overview of essential business relationship management (BRM) concepts, and upon completion of the BRMP® course, you will be able to demonstrate your understanding of:
What BRM is and the value it provides to an organisation. ​
Why an organisation should move beyond profit and products to encompass people, purpose, and planet​
Why BRM should be completely integrated into every element of your organisation. ​
The contribution of the BRM role to your organisation's purpose
The basic knowledge, skills, and mindsets of the BRM role. ​
The core BRM approaches, tools, and templates used to achieve results. ​
How a BRM team can advance the BRM capability to evolve culture, build partnerships, drive value, and satisfy purpose within your organisation.
Who should attend
Business Relationship Managers or those in similar roles
Project Managers
Business Analysts
Enterprise and Service Architects
External Service Providers
Representatives of shared services organisations
Anyone interested in maximizing business value
Prerequisites
There are no prerequisites for this course.
Exam & Certification
This course prepares participants for the exam leading to the Business Relationship Management Professional (BRMP®)Certification granted by APMG International
Exam is 50 minutes; 50 multiple-choice; closed book
You will receive an exam voucher for the web-based exam, to be scheduled after the course
A passing mark of 30 out of 50 is required to receive your certificate
Upon passing your exam a digital badge will be awarded by APMG International
Course Material & Inclusions
This course comes with access to our e-materials. Material for this course will be provided as downloadable soft-copy files that can be viewed on a variety of devices. Attendees may print a hard copy of the files in whatever format best meets their needs.
Our virtual instructor-led classes include a $25 lunch voucher for each day (value of $75 for this 3-day course), this means you can get your lunch organised whether you do it from home or the office. The voucher is provided via email on the first morning of the course.  
Business Relationship Management Professional (BRMP®) online exam voucher, this is issued from APMG International (global examination body) on the first morning of the course. The schedule is available 24/7 so you can book and register for your exam at a time that suits. A webcam and internet connection is required.
A digital badge you can share with your network will be provided via email upon passing your certification exam with APMG.
BRM Institute and Professional Membership - Complimentary 3-Month Trial Offer
Business Relationship Management (BRM) Institute is the leading non-profit organisation that serves the global Business Relationship Management professional community.
BRM Institute has partnered with APMG to promote wider adoption of world-class Business Relationship Management training and facilitate widespread availability of BRM Institute professional certifications.
To start or continue your journey, upon registering for a BRM certification, you'll be able to join BRM Institute as a Professional Member at no cost for three (3) months. Professional members have exclusive access to the Online Campus.  Members can download various publications at no cost and dive into the BRM Interactive Body of Knowledge. The Online Campus allows you to connect with peers, gain professional support and discover how to implement a successful BRM capability. Contact your accredited training organisation for details
SFIA Skills and Industry Accreditation

This course enables participants to develop their knowledge and proficiency in the following Skills Framework for the Information Age (SFIA®) professional skills:
RLMT: Stakeholder relationship management
DEMM: Demand management
POMG: Portfolio management
BENM: Benefits management
CIPM: Organisational change management
This list gives the core SFIA skills covered by the course. Elements relevant to other SFIA skills may also be included to a lesser depth. Proficiency in a SFIA skill is measured by performance assessment and is achieved through actual substantial use of that skill in a real-world situation over some time. In course assignments and exercises undertaken through a course can demonstrate elements of the relevant skills which can then be further developed back in the workplace.  Acquiring new skills and building on existing skills, ideally occurs within the context of an agreed development plan for each person that ensures that their personal circumstances, strengths and development needs are met.
An amazing instructor who explained the content very clearly and at a very good pace. This was a good balance and approach to learning in a three day intensive period. I found the worked examples very practical and very relatable to the Defence industry sector I work in.
Satisfied Customer
Really good facilitation, kept me interested and shared so many practical applications.
Satisfied Customer
Gave me a better understanding of concepts, theories and tools to formalise and improve my current relationship management.
Satisfied Customer
The instructor was very professional and was able to explain each area thoroughly and is available for Q&A.
Satisfied Customer