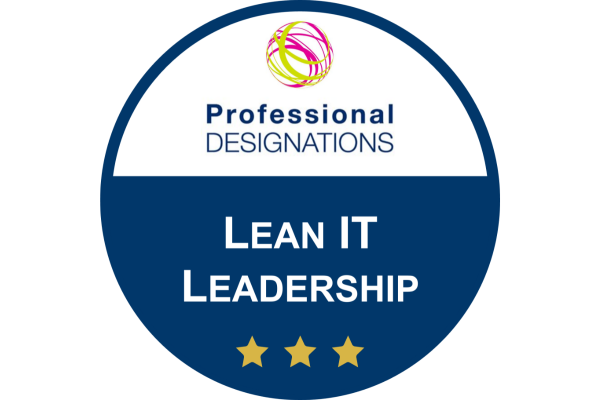 Lean IT Leadership Course & Examination
instructor-led
This 3-day course is held in our virtual classroom and prepares you for the exam leading to the Lean IT Leadership Certificate.
Lean leadership seeks to improve business and customer value through increased engagement and accountability. Lean IT leadership provides IT leaders with a principle-based methodology – specifically, the Lean Leadership Development model – to develop their organisations into one that has a lean thinking mindset by modelling, driving, and teaching continuous improvement. Lean IT is underpinned by principles that expedite an increase in the reliable and predictable delivery of services, as well as the development of superior IT products and services. 
Lean IT leadership is different from traditional hierarchical or command-and-control models. It focuses on leadership principles that are critical to enabling an organisation with the agility to quickly and effectively advance service and process improvement opportunities. The established Lean IT leader serves as both a role model and a teacher – or sensei – to their organisation. Lean IT leaders help transform their corporate culture by demonstrating their ability to walk their talk by committing to their own self-development and guiding others in the organisation do the same. 
Course Overview
This intensive 3-day Lean IT Leadership course builds on the core knowledge and concepts obtained in Lean IT Essentials. It focuses on how to lead for a culture that embraces Lean and why that's important. Participants will learn the basics of Lean leadership, the principles of Lean IT leadership, and leadership in an IT context – as well as receive guidance on the practical use of hands-on Lean tools and techniques so they can implement Lean IT in their organisation. The course is interactive, participative, and will equip you to become an exemplary Lean IT leader who can inspire, enable, and empower everyone within your organisation to embrace Lean IT principles and operational excellence. This can take place at any level of the organisation or in any section of it. 
This course is key to all IT service management courses that focus on enhancing business value and speed to market, such as Agile and DevOps.
This course stands out from others because our participants have opportunities to practice meaningful Lean IT Leadership through a series of exercises and even develop a customised strategy to bring back to their workplace so it can be transformed to Lean IT. 
The course provides you with the knowledge of how and why Lean leadership is different from traditional hierarchical or command and control models. It focuses on Lean principles such as gemba (go to where the work happens) and jidoka (empowerment of the team member to 'stop the line') to address quality issues as soon as they are discovered. Lean leadership principles are critical to enabling an agile team, which deals quickly and effectively with service and process improvement opportunities. 
Attendees will define a plan for a Lean IT transformation of their own IT organisation, which includes: 
Planning and structuring a Lean IT transformation using the five Lean IT dimensions

 

Make a change story for your own situation

 

Complete an A3 proposal for the execution of a Lean IT transformation

 

Determine which Lean tools and methods must be applied at what moment in a Lean IT transformation.

 
Learning Outcomes
During this comprehensive certification course, you will learn about: 
Understanding of how to apply the key components of Lean leadership that include:

The Shingo model and its four guiding principles that directly impact Lean leadership – respecting every individual, leading with humility, creating a constancy of purpose, and thinking systemically

 

The key elements of systemic thinking – holistic thinking, dynamic thinking, and closed-loop thinking

 

The definition of True North values, which are the core values everyone within an organisation should exemplify; its five elements are challenge, a kaizen mindset, go and see, teamwork, and respect

 

Defining the Lean style of leadership and the four aspects of the Lean Leadership Development model:

 

Commit to self-development

 

Inspire by being a role model, as well as help others to develop and achieve goals

 

Achieve continuous improvement

 

Develop and implement vision, goals, and communication – and incorporate living by your True North values through repeated learning cycles

 

The five flows of IT value as defined by Bell – external customer-focused, business partner-focused, business customer-focused, system/service-focused, and technology-focused

 

The differences between Lean leadership and Level 5 leadership

 

Comprehension of the importance of committing to self-development both personally and within the organisation by:

 

Understanding and applying the key aspects of committing to self-development that include the self-development principles of 

shu-ha-ri

, which is a Japanese martial arts concept that describes the progression of training or learning. 

Shu

 means to execute and learn exactly,

 ha 

means standardize with some improvisation, and

 ri 

means mastering the standards by focusing on deepening your skills and understanding

 

Learning and employing the four key tools that help develop Lean leaders – lead standard work, the 

gemba 

walk (going to the place where value is created), structured problem-solving, and visual management

 

Adopting the kaizen mindset of always seeking improvement

 

Accepting accountability in a Lean IT setting and leading others to do the same

 

Implementing the

 kata 

of leadership – creating a methodology of repeated, consistent practices

 

Recognition of the importance of developing others as an integral part of Lean IT leadership and help them understand and apply:

 

The Lean concept of eliminating waste, which includes 

mura

 and 

muri

 

The key goals of a 

gemba 

walk – support, teach, promote, and the relationship between 

jidoka

 (an environment where disturbances to the flow of work through the value streams are made visible) and a 

gemba 

walk

 

Genchi genbutsu

, which means going to the 

gemba 

to observe what is happening, without judging

 

Nemawashi

, which means an information process of laying the foundation for a decision, change, or project

 

T-type leadership, which is a combination of a deep understanding of a technical area, supplemented by a broad knowledge of leadership and IT service delivery

 

The five whys method for identifying the root cause of a problem

 
Understanding of how to use hoshin kanri, which is a cyclic method for translating strategy to operations

Knowledge about how a Lean IT leader must communicate the vision and goals using five tools for open and transparent communication

 

Practical knowledge of how to use the Lean A3 tool that is a proven method of identifying a problem, analysing the data, determining the correction actions, and capturing the action plan on a single sheet of paper. This process empowers all employees to realise improvements and solve problems themselves
Who should attend
A Lean Leader is anyone who is involved with leading or sponsoring a Lean improvement initiative at any level of the organisation and within any department. 
This course is designed for IT practitioners interested in expanding their leadership, mentoring and team development skills based on the Lean principles developed through the "Toyota Way", including: 
Managers tasked with department level improvements

 

Senior IT Leaders

 

Lean project sponsors

 

Project Managers

 

Any role responsible for leading quality and continual service improvement initiatives

 
Prerequisites
For this course you are required to have successfully attained your Lean IT Essentials certificate. You will need to provide us with a copy of your certificate upon registration in order to be admitted into this course.
Exam & Certification
This course prepares you for the examination leading to the Lean IT Leadership Certificate. 
The exam is open

book

and the "Lean IT Leadership" official publication is allowed for reference during the exam

 

The exam is 2 hours in duration and consists of 60 multiple choice questions based on a scenario. Sample exams/case scenarios will be used during the course for practice. Participants are provided with an exam voucher so they can schedule the exam at their convenience on any date after completion of the course

 

A passing mark of 65% is required to achieve certification

 
Course Material & Inclusions
Material for this course will only be provided as downloadable soft copy files that can be viewed on a variety of devices. Attendees may print a hard copy of the files in whatever format best meets their needs, and can use the files under the ITSM Hub Terms of Use.  
Materials included with this course provide a very good overview of the concepts and principles, and adequately prepare attendees for the exam. For those seeking to expand further, we recommend the following publications and articles: 
Lean IT: Enabling and Sustaining Your Lean Transformation — Steven C. Bell, Michael A. Orzen

 

Developing Lean Leaders at All Levels: A Practical Guide — Jeffrey K. Liker

 
You can purchase these recommended readings from the following sources: 
Our virtual instructor-led courses include a $25 lunch voucher for each day (valued at $75), this means you can organise to have your lunch delivered during the course. The voucher is provided via email on the first morning of the course. 
Lean IT Leadership online exam voucher plus a complimentary Lean IT Leadership exam re-sit if you miss out on passing your certification the first time.
A digital badge you can share with your network of your course achievement will be provided via email upon passing your certification exam. 
SFIA Skills & Industry Accreditation

After completion of this course, you may apply for self-directed learning PDU's through PMI. A certificate of attendance is available upon request. 
This course enables participants to develop their knowledge and proficiency in the following Skills Framework for the Information Age (SFIA®) professional skills:
METL: Methods and tools
QUMG: Quality Management

OCDV: Organisational Capability Development
This list gives the core SFIA skills covered by the course. Elements relevant to other SFIA skills may also be included to a lesser depth. Proficiency in a SFIA skill is measured by performance assessment and is achieved through actual substantial use of that skill in a real-world situation over some time. In course assignments and exercises undertaken through a course can demonstrate elements of the relevant skills which can then be further developed back in the workplace.  Acquiring new skills and building on existing skills, ideally occurs within the context of an agreed development plan for each person that ensures that their personal circumstances, strengths and development needs are met.
An amazing instructor who explained the content very clearly and at a very good pace. This was a good balance and approach to learning in a three day intensive period. I found the worked examples very practical and very relatable to the Defence industry sector I work in.
Satisfied Customer
Really good facilitation, kept me interested and shared so many practical applications.
Satisfied Customer
Gave me a better understanding of concepts, theories and tools to formalise and improve my current relationship management.
Satisfied Customer
The instructor was very professional and was able to explain each area thoroughly and is available for Q&A.
Satisfied Customer