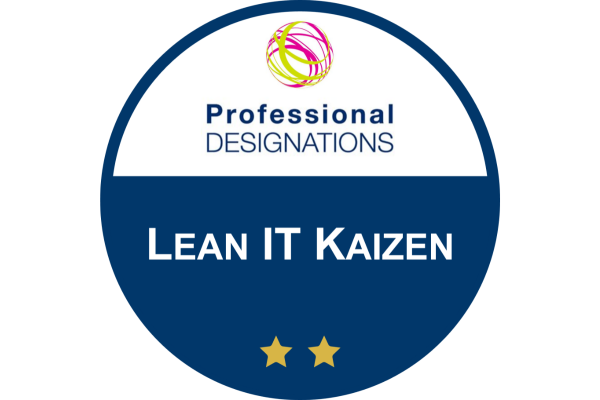 Lean IT Kaizen Course & Examination
instructor-led
This course prepares you for the exam leading to the Lean IT Kaizen Certificate.
This interactive certification course is participative and provides the knowledge, tools, and techniques needed for leading and facilitating rapid improvement efforts – known as kaizen events – within IT organisations. 
The Lean Foundation level course is a mandatory requirement for all other levels within the Lean certification scheme.
Course Overview
Kaizen is an improvement philosophy in which continuous, incremental improvement occurs over a sustained period of time to help improve business performance. It's a Japanese term where kai = change and zen = for the better. Combined, it means change for the better or continual improvement.
Building on the knowledge gained in Lean IT Essentials, this advanced course will take you beyond understanding Lean concepts and principles to master continuous improvement and become a Lean IT kaizen lead. You will obtain actionable solutions that use structured problem-solving approaches – including one used by Six Sigma – and proven Lean procedures and models. You will learn to identify, plan, and apply incremental service and process improvements that are focused on enhancing the efficiency and effectiveness of any process or value stream. 
Participants will learn how to conduct Lean IT kaizen events by working through an improvement opportunity related to their own organisation – and leave with a plan for their own kaizen initiative. 
The course details kaizen key concepts, terminology, kaizen event roles, etc. It also delves into various Lean IT methods and specifically details how to effectively use the DMAIC (define, measure, analyse, improve, control) improvement model that leverages the Lean A3 problem-identification and planning tool to complete a full improvement cycle. Participants will learn to identify and implement small, accumulative improvement opportunities that utilise a combination of logical and analytical, as well as creative and ideation, methods. 
Learning Outcomes
During this comprehensive certification course, you will learn about: 
The concept of kaizen and the core elements of the kaizen mindset, as well as what kaizen events, daily kaizen and improvement kaizen are – and the differences between them

 

The four sources of improvement – voice of the customer, voice of the process, voice of the business, and voice of the regulator

 

Applying the five principles of Lean to organising kaizen events and gain an understanding of kaizen team roles, as well as how to select kaizen initiatives and obtain support for them

 

Practical how-tos about applying Lean methodologies:

 

The Shewart cycle (also known as the Deming circle) of plan, do, check, and act

 

The A3 problem-solving method that applies Lean thinking and allows for a concise and standardised presentation of the process and results from a kaizen initiative, proposal, or the status of a project

How to take a deep dive into DMAIC - the proven, structured improvement problem-solving method that is integral to a Six Sigma initiative:

Define – Learn to identify the types of problems, as well as how to write a problem statement, validate the scope of the problem, write a problem definition, and much more.

 

Measure – Refine the problem statement by collecting reliable data on the variables related to the problem; use quantitative and qualitative measurement systems to determine procedures, set baseline and benchmarks, measure the value stream, etc.

 

Analyse – Follow the five main steps in this stage that include translating the data, performing a data analysis by using various methods that include the seven basic tools of quality and the five whys, performing a process analysis of the value stream map, determining the root causes, and prioritising the root causes.

 

Improve – Identify the improvement options, generate potential solutions, select and prioritise the most suitable of them, apply best practices, develop the future state value stream map, pilot the solution and improvement outcomes, and create an implementation plan.

 

Control – Create a measurement system, documentation, and an effective control plan, as well as communicate with stakeholders, present the results, transition ownership, and establish methods to improve quality – and then anchor the change in the organisation and share the lessons learned.

 
Who should attend
The course is designed for IT practitioners interested in expanding their practical knowledge and skills to lead targeted Lean improvement initiatives focused on continual service improvement, including:
Managers tasked with department level process improvements
Business analysts
Project managers
Software developers
Quality assurance managers
IT Consultants
Any roles responsible for quality, efficiency and continual service improvement
Prerequisites
For this course you are required to have successfully attained your Lean IT Essentials certificate. You will need to provide us with a copy of your certificate upon registration in order to be admitted into this course.
Exam & Certification
This course prepares you for the examination leading to the Lean IT Kaizen Certificate. It is a 90 minute, 40 question, multiple-choice exam. You must attain a passing mark of 65% to attain your certificate
The Lean IT Kaizen examination is administered and marked by Professional Designations, an online exam voucher will be provided on the last day of the course. The online exam schedule is available 24/7 and a webcam and internet connection is required. 
Course Material & Inclusions
Material for this course will only be provided as downloadable soft copy files that can be viewed on a variety of devices. The materials can be printed by the participant if preferred. 
Our virtual instructor-led courses include a $25 lunch voucher for each day (valued at $75), this means you can organise to have your lunch delivered during the course. The voucher is provided via email on the first morning of the course. 
Lean IT Kaizen online exam voucher plus a complimentary Lean IT Kaizen exam re-sit if you miss out on passing your certification the first time.
A digital badge you can share with your network of your course achievement will be provided via email upon passing your certification exam. 
SFIA Skills & Industry Accreditation

After completion of this course, you may apply for self-directed learning PDU's through PMI. A certificate of attendance is available upon request. 
This course enables participants to develop their knowledge and proficiency in the following Skills Framework for the Information Age (SFIA®) professional skills:
METL: Methods and tools
QUAS: Quality Assurance
MEAS: Measurement
PBMG: Problem Management
AUDT: Audit
This list gives the core SFIA skills covered by the course. Elements relevant to other SFIA skills may also be included to a lesser depth. Proficiency in a SFIA skill is measured by performance assessment and is achieved through actual substantial use of that skill in a real-world situation over some time. In course assignments and exercises undertaken through a course can demonstrate elements of the relevant skills which can then be further developed back in the workplace.  Acquiring new skills and building on existing skills, ideally occurs within the context of an agreed development plan for each person that ensures that their personal circumstances, strengths and development needs are met.
An amazing instructor who explained the content very clearly and at a very good pace. This was a good balance and approach to learning in a three day intensive period. I found the worked examples very practical and very relatable to the Defence industry sector I work in.
Satisfied Customer
Really good facilitation, kept me interested and shared so many practical applications.
Satisfied Customer
Gave me a better understanding of concepts, theories and tools to formalise and improve my current relationship management.
Satisfied Customer
The instructor was very professional and was able to explain each area thoroughly and is available for Q&A.
Satisfied Customer