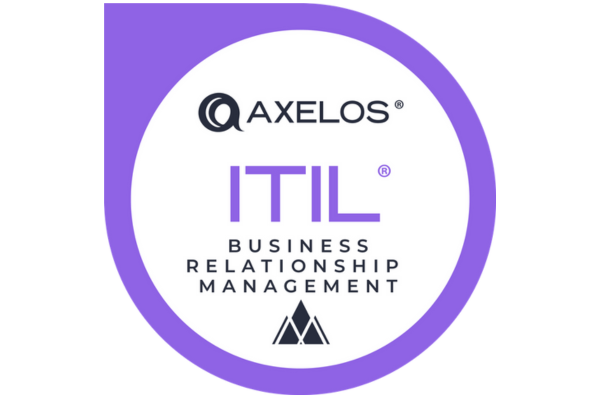 ITIL® 4 Specialist: Business Relationship Management Course & Examination
instructor-led
The ITIL® 4 Specialist: Business Relationship Management module provides strategic and practical best practice guidance to help organisations understand the value of Business Relationship Management. The ITIL 4 Foundation certification is the pre-requisite for this course, if you have not achieved this you can view the course here
This course is held in our virtual classroom over 3-days with our expert instructor, you can join the class and network with your peers from anywhere with an internet connection. 
Course Overview
Based on the ITIL 4 framework, this module provides both strategic and practical best practice guidance to help organisations understand the value of Business Relationship Management as well as its key concepts and challenges. Professionals should be able to use these concepts to deliver return on investment in digital technology, develop and apply service relationship models and integrate Business Relationship Management in the organisation's service value streams for a holistic and end-to-end approach. 
Key benefits of ITIL® 4 Specialist: Business Relationship Management;  
Deliver Value:

Improving the service journey for all stakeholders involved in the relationship

 

Improve communication processes:

Through developing and applying relationship models based on ITIL best practice.

 

Enable good customer relationships:

Creating a common culture by understanding the user experience and taking practical steps to continuously improve it.

 
Learning Outcomes

ITIL® 4 Specialist: Business Relationship Management helps professionals to:  
Define Business Relationship Management roles, responsibilities, knowledge, and skills

 

Ensure stakeholders understand the strategic and operational requirements to co-create value and achieve business goals

 

Apply Business Relationship Management metrics and practice success factors to improve performance

 

Measure, assess and develop Business Relationship Management capability by using the ITIL Maturity Model.

 
Who should attend
The ITIL 4 Specialist: Business Relationship Management module is for IT professionals who are involved in establishing and nurturing the relationships between service providers and consumer organisations, and their stakeholders. 
Prerequisites
The ITIL 4 Foundation certification is the pre-requisite for this course, if you have not achieved this you can view the course here
Exam & Certification
This course prepares participants for the examination leading to the ITIL® 4 Specialist: Business Relationship Management.  
A 90-minute, 40 question, multiple-choice exam is administered by an independent examination body, PeopleCert. 

 

A passing mark of 65% required to receive your certificate, 26 correct answers

 

Closed book

 
The exam is provided as an online examination voucher, upon completing your course you will receive an email from PeopleCert with information on how to register and schedule your exam. The examination is 90 minutes, please allow for an additional 30 minutes for set up and authentication. You will require a photo identification, quiet space, webcam, speakers and a reliable internet connection. 
The exam schedule is available 24/7 so you can sit your exam at a time that suits you. Your voucher will be valid for 12 months, we do recommend you complete your examination as close to the course date as you can – this is when the information is fresh and relevant. 
A Take2 exam re-sit is included if there is a 'failure' result from the first attempt. Take2 will not be available from a missed or absent exam attempt. 
Course Material & Inclusions
This course comes with access to PeopleCert's official training e-materials. The Learner Kit includes: 
Course workbooks/slideshow for students to download, or view on laptop or tablet devices

 

Official AXELOS ITIL practice exams

 

Quick reference and exam guidance materials

 
Our virtual instructor-led classes include a $25 lunch voucher for each day, this means you can get your lunch organised whether you do it from home or the office. The voucher is provided via email on the first morning of the course, valued at $75.  
ITIL® 4 Specialist: Business Relationship Management online exam voucher, valid for 12-months  
A Take2 exam re-sit is included if there is a 'failure' result from the first attempt. This is valid for a further 6-months. Take2 will not be available from a missed or absent exam attempt.    
The official ITIL 4 publication available from AXELOS is included as an eBook.  This will be provided on the first morning of the course as part of your PeopleCert exam voucher. When you redeem your PeopleCert Voucher Code, there will be a new eBook in the 'My eBooks' section of your PeopleCert Account. 
1 month free MyAxelos subscription: MyAxelos is PeopleCert's exclusive membership programme that helps you prepare for your exam and continuously stay up to date with the ITIL, Prince2, MoR, MOP, P3O, MoV, Resilia, AgileShift frameworks. 
An amazing instructor who explained the content very clearly and at a very good pace. This was a good balance and approach to learning in a three day intensive period. I found the worked examples very practical and very relatable to the Defence industry sector I work in.
Satisfied Customer
Really good facilitation, kept me interested and shared so many practical applications.
Satisfied Customer
Gave me a better understanding of concepts, theories and tools to formalise and improve my current relationship management.
Satisfied Customer
The instructor was very professional and was able to explain each area thoroughly and is available for Q&A.
Satisfied Customer