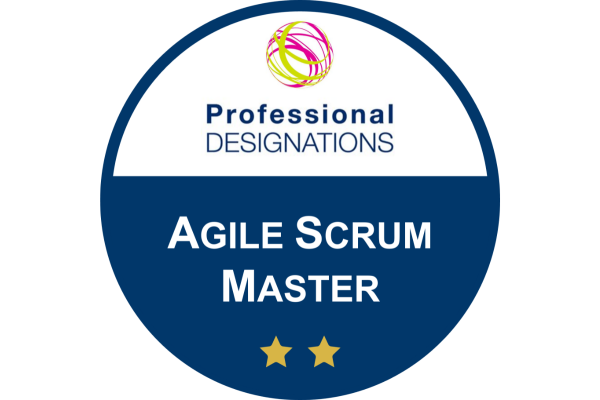 Agile Scrum Master Course & Examination
instructor-led
Our Agile Scrum Master course will cover all aspects of the Scrum framework through a variety of real-world scenarios and focused practical information related specifically to the Scrum Master.
This 2-day course is held in our virtual classroom with our expert instructor, meaning you can join the class and network with your peers from anywhere with an internet connection. 
Course Overview
The role of Scrum Master is crucial to ensuring a proper Scrum process is maintained throughout a project. A Scrum Master certification demonstrates a deep understanding of Scrum best practices and provides a level of expertise that goes beyond a typical team leader or project manager.
As you go through our course, you will gain the must-have skills to become a certified Scrum Master through our unique combination of case studies, storytelling, and practical learning based on the real-life challenges that Scrum Masters face. The course is designed at an intermediate level, supplying the knowledge and core activities associated with the Agile Scrum Master role.
Why choose this course?  
With an emphasis on real-world application and practical knowledge, our Agile Scrum Master course provides the necessary skills to help you apply Agile thinking and Scrum methodologies to your projects.
We offer a streamlined and intuitive course structure that brings Agile Scrum thinking to life and is delivered through hands-on, interactive exercises.
We have 25 years' experience in delivering knowledge as well as sharing best practices on subjects such as Change Management, Lean IT, and DevOps – all useful assets in the Scrum Master toolkit.
Throughout this course, you will learn about how Scrum Masters have been successful in a variety of IT organisations.
Learning Outcomes
Upon the successful completion of this course, you will understand:
The true extent of what it means to think and act in an Agile way
The mastery of the Scrum framework centered around the integration of roles, events, and Scrum artifacts, including and supporting the product backlog and sprint backlog
The many soft skills necessary for the Scrum Master, such as servant leadership, facilitation, coaching and mentoring, problem solving, and removing impediments
The key skills related to visual management for increasing transparency, inspection, and adaptation for success with your projects
The importance of team dynamics, organising, team building, and virtual teams
The most important skills for successful Scrum Masters that are applied through different Scrum events from initial planning to the final retrospective
The crucial strategies for scaling Scrum projects with multiple teams and complex products
Who should attend
This course is applicable to anyone working in the fields of IT and project management, particularly those leading projects and development efforts, as well as sponsors looking to understand and introduce an Agile culture.
Job titles include:
Project Managers
Business Analysts
Product Managers
Product Owners
UX or UI Designers
Software Developers
Software Engineers
Quality Assurance Professionals
Prerequisites
There are no prerequisites for this course, though a basic understanding of Agile and Scrum is recommended.
Exam & Certification
The Agile Scrum Master exam is completed through Professional Designations Corp.
This is a 1 hour, closed book exam which consists of 20 multiple- choice questions - a passing score of 65% is required. The exam is completed online using a webcam and internet connection. 
Course Material & Inclusions
Access to your own online learning portal for 12-months to work through the course materials and prepare for the examination. The course is delivered via downloadable resources, exams and instructor videos. Instructor assistance is available via email.
Agile Scrum Masters online exam voucher plus a complimentary Agile Scrum Masters exam re-sit if you miss out on passing your certification the first time.

Our virtual instructor-led classes include a $25 lunch voucher for each day ($50 in total), this means you can organise to have your lunch delivered to your home or office. The voucher is provided on the first day of the course. 
Upon passing your certification exam, a digital badge you can share with your network will be provided.
SFIA Skills and Industry Accreditation 

This course enables participants to develop their knowledge and proficiency in the following Skills Framework for the Information Age (SFIA®) professional skills:
METL: Methods and Tools
DESN: System Design
SWDN: Software Design
This list gives the core SFIA skills covered by the course. Elements relevant to other SFIA skills may also be included to a lesser depth. Proficiency in a SFIA skill is measured by performance assessment and is achieved through actual substantial use of that skill in a real-world situation over some time. In course assignments and exercises undertaken through a course can demonstrate elements of the relevant skills which can then be further developed back in the workplace.  Acquiring new skills and building on existing skills, ideally occurs within the context of an agreed development plan for each person that ensures that their personal circumstances, strengths and development needs are met.
An amazing instructor who explained the content very clearly and at a very good pace. This was a good balance and approach to learning in a three day intensive period. I found the worked examples very practical and very relatable to the Defence industry sector I work in.
Satisfied Customer
Really good facilitation, kept me interested and shared so many practical applications.
Satisfied Customer
Gave me a better understanding of concepts, theories and tools to formalise and improve my current relationship management.
Satisfied Customer
The instructor was very professional and was able to explain each area thoroughly and is available for Q&A.
Satisfied Customer