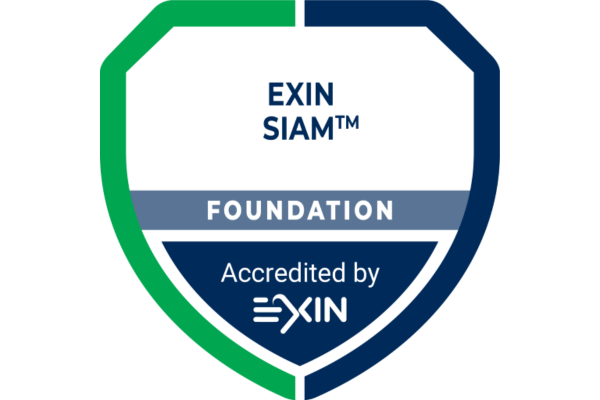 SIAM™ Foundation Course & Examination
instructor-led
Service Integration and Management (SIAM) is a methodology used to manage multiple service providers and to integrate them seamlessly to provide a single business-facing IT organisation. The SIAM™ Foundation tests a candidate's knowledge and understanding of the terminology and the core principles. This SIAM™ certification covers themes such as: potential benefits as well as the challenges and risks of implementing Service Integration and Management. 
This 2-day course is held in our virtual classroom with our expert instructor, meaning you can join the class and network with your peers from anywhere with an internet connection. 
Course Overview
The SIAM™ certification also includes examples of implementation structures, governance, tooling and data considerations and the common processes used in a SIAM ecosystem. A candidate who successfully completes the SIAM™ Foundation knows how Service Integration and Management delivers business value and is able to contribute to the implementation and use of SIAM in an organisation. 
Service Integration and Management (SIAM) also has a synonym: multi-sourcing integration (MSI). Within the scope of this certification, only the term Service Integration and Management is used. 
Candidates should be able to demonstrate knowledge of the fundamental concepts of Service Integration and an understanding of bringing together multiple service providers to strive for a common goal, in order to support the client organisations' agreed objectives for service delivery. 
Learning Outcomes

At the end of your SIAM Foundation course, candidates will have an understanding of the following:
Understand the main concepts and processes of SIAM that are used in organisations

 

Establish a SIAM ecosystem in order to better organise the organisation's resources

 

Provide better support during a SIAM implementation by understanding the main considerations for the most important processes

 

Reduce risks associated with Integrated Services and the SIAM ecosystem

Connect different practices with SIAM to boost and improve the organisation's service provision.

 

Integrate services by using different structures based on SIAM practices and methodology

 

Recognise the key stages of SIAM implementation in order to better plan its roll-out

 

Determine SIAM roles and responsibilities in processes and the organisation

 

Better select the most appropriate SIAM practices in line with the organisation's environment and maturity.

 
Who should attend
This certification is aimed at professionals worldwide who have an interest in the practices of Service Integration and Management or that want to implement this methodology in an organisation, in particular those professionals who are already working with IT Service Management processes. Furthermore, this SIAM™ certification is intended for providers that want to implement and manage Service Integration and Management models. 
The following roles could be interested in this module: 
Chief Strategy Officers (CSOs)

 

Chief Information Officers (CIOs)

 

Chief Technical Officers (CTOs)

 

Service Managers

 

Service Provider Portfolio Strategists/Leads

 

Process Managers

 

Project Managers

 

Change Managers

 

Service Level Managers

 

Business Relationship Managers

 

Program Managers

 

Supplier Managers

 

Service Architects

Process Architects

 

Business Change Practitioners and

 

Organisational Change Practitioners

 
Prerequisites
There are no specific pre-requisites for entry to the examination; however it is strongly recommended that candidates have good knowledge of IT Service Management terminology, for instance through a recognised IT Service Management framework. 
Exam & Certification
The EXIN SIAM™ Foundation exam tests a candidate's knowledge and understanding of the terminology and the core principles of SIAM. This certification covers subjects including the potential benefits, challenges, and risks of implementing Service Integration and Management. 
This course prepares you for the closed-book, 60 minute, 40 question exam leading to the SIAM™ Foundation Certification. This exam is administered by EXIN. You must attain a passing mark of 65% (24 marks) to be awarded the certificate. 
Course Material & Inclusions

Material for this course will only be provided as downloadable soft copy files that can be viewed on a variety of devices. Attendees may print a hard copy of the files in whatever format best meets their needs.
Our virtual instructor-led classes include a $25 lunch voucher (valued at $50), this means you can get your lunch organised whether you do it from home or the office. The voucher is provided via email on the first morning of the course.  
SIAM Foundation online exam voucher plus a complimentary SIAM Foundation exam re-sit if you miss out on passing your certification the first time.
A digital badge you can share with your network of your course achievement will be provided via email upon passing your certification exam.
SFIA Skills & Industry Accreditation

After completion of this course, you may apply for self-directed learning PDU's through PMI. A certificate of attendance is available upon request.
This course enables participants to develop their knowledge and proficiency in the following Skills Framework for the Information Age (SFIA®) professional skills:
METL: Methods and Tools

 

RLMT: Stakeholder Relationship Management

SLMO: Service Level Management

 

SUPP: Supplier Management

 

ITMG: Technology Service Management

 

SINT: Systems Integration and build

 

OCDV: Organisational Capability Development
This list gives the core SFIA skills covered by the course. Elements relevant to other SFIA skills may also be included to a lesser depth. Proficiency in a SFIA skill is measured by performance assessment and is achieved through actual substantial use of that skill in a real-world situation over some time. In course assignments and exercises undertaken through a course can demonstrate elements of the relevant skills which can then be further developed back in the workplace.  Acquiring new skills and building on existing skills, ideally occurs within the context of an agreed development plan for each person that ensures that their personal circumstances, strengths and development needs are met.
An amazing instructor who explained the content very clearly and at a very good pace. This was a good balance and approach to learning in a three day intensive period. I found the worked examples very practical and very relatable to the Defence industry sector I work in.
Satisfied Customer
Really good facilitation, kept me interested and shared so many practical applications.
Satisfied Customer
Gave me a better understanding of concepts, theories and tools to formalise and improve my current relationship management.
Satisfied Customer
The instructor was very professional and was able to explain each area thoroughly and is available for Q&A.
Satisfied Customer