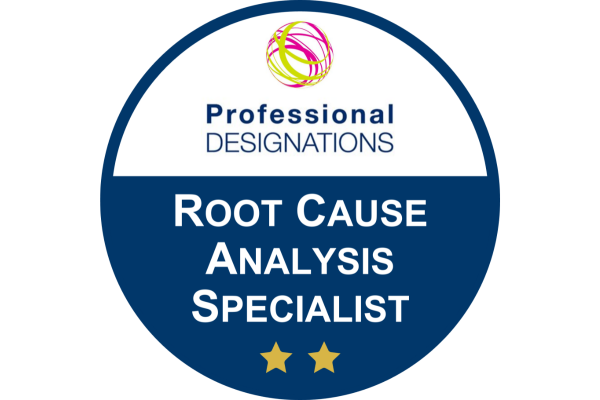 Problem Management: Root Cause Analysis Specialist
instructor-led
Every organisation has problems; however, not all businesses are proactive about preventing problems! You know what Problem Management is, but the real question is how do you do it?
This one-of-a-kind interactive certification course gives you practical learnings that you can immediately start to implement as soon as you get back to work. 
This 2-day course is held in our virtual classroom with our expert instructor, meaning you can join the class and network with your peers from anywhere with an internet connection. 
Course Overview
The hands-on course prepares you for the Professional Designations certification exam leading to the Root Cause Analysis Specialist Certificate in Problem Management. This certification will provide you with a practical, structured approach to applying established root cause analysis principles and techniques to identify the sources of recurring incidents and service downtime. 
Every organisation has problems; however, not all businesses are proactive about preventing problems!

You know what Problem Management is… in theory. But, the real question is how do you do it?

Go beyond theory here! This one-of-a-kind interactive certification course gives you practical guidance that you can immediately start to implement as soon as you get back to work.
Attendees will gain the skills and knowledge they need to increase the efficiency and effectiveness of Problem Management and Incident Management through the application of root cause analysis techniques and principles. 
Improving the ability to correctly and efficiently identify root causes provides a variety of benefits, among them: 
Reduction in service downtime/increased availability: 

 




Reduces loss of user productivity

 

Prevents potentially more severe impact, such as loss of revenue or profit opportunities

 

Supports the achievement of business outcomes

 
Learning Outcomes
Through instructor-led discussions, case studies, practical examples and group exercises, participants can expect to gain an understanding of the following: 
How to improve service availability through efficient, effective identification of root causes using various problem investigation methods such as Kepner-Tregoe, Ishikawa diagrams, and the 5 Whys

 

Which techniques are most useful for different types of problems

 

When it's appropriate to undertake root cause analysis

 

Barriers to effective problem solving and how to overcome them

Information gathering techniques – asking the right questions

 

How to use different data sources for identifying problems

 

Critical success factors for successful RCA

 

Effectively linking Problem and Knowledge Management

 

Outline the factors critical for success for root cause analysis

Provide guidance to peers on key root cause analysis techniques

 

Help establish guidelines for when Problem Management and root cause analysis should be used

 

Design procedures to ensure the right information is gathered to aid in effective RCA

 

Identify existing data sources that will be useful in identifying root causes

 

Identify tool requirements for improving and supporting Problem and Knowledge Management

 
Who should attend

Any individual charged with reducing and eliminating incidents and problems in the IT infrastructure.  
Prerequisites
There is no prerequisite for this course, however it is recommended that the participant be familiar with general problem management concepts as defined by IT Service Management. 
Exam & Certification
The Problem Management: Root Cause Analysis Specialist exam is completed through Professional Designations Corp.
This is a 1 hour, closed book exam which consists of 40 multiple- choice questions - a passing score of 65% is required. The exam is completed online using a webcam and internet connection. 
Course Material & Inclusions
Material for this course will only be provided as downloadable soft-copy files that can be viewed on a variety of devices. Attendees may print a hard copy of the files in whatever format best meets their needs.
The following documents, downloadable in a ready-to-use format, will help you get a jump start on developing your Root Cause Analysis procedures: 
Guidelines for what to do before, during and after the RCA activity

 

Root Cause Analysis Workflow

 

Quick Reference Guide of RCA techniques in this workshop

 

Applicable templates for the various techniques

 

Tips and techniques for Problem Management and RCA

 
Our virtual instructor-led classes include a $25 lunch voucher for each day (valued at $50), this means you can get your lunch organised whether you do it from home or the office. The voucher is provided via email on the first morning of the course. 
Problem Management Specialist online exam voucher plus a complimentary Problem Management Specialist exam re-sit if you miss out on passing your certification the first time
A digital badge to share with your network upon passing your certification exam. 
SFIA Skills and Industry Accreditation

After completion of this course, you may apply for self-directed learning PDU's through PMI. A letter of attendance is available upon request. 
This course enables participants to develop their knowledge and proficiency in the following Skills Framework for the Information Age (SFIA®) professional skills:
METL: Methods and tools
PBMG: Problem Management 
This list gives the core SFIA skills covered by the course. Elements relevant to other SFIA skills may also be included to a lesser depth. Proficiency in a SFIA skill is measured by performance assessment and is achieved through actual substantial use of that skill in a real-world situation over some time. In course assignments and exercises undertaken through a course can demonstrate elements of the relevant skills which can then be further developed back in the workplace.  Acquiring new skills and building on existing skills, ideally occurs within the context of an agreed development plan for each person that ensures that their personal circumstances, strengths and development needs are met.
An amazing instructor who explained the content very clearly and at a very good pace. This was a good balance and approach to learning in a three day intensive period. I found the worked examples very practical and very relatable to the Defence industry sector I work in.
Satisfied Customer
Really good facilitation, kept me interested and shared so many practical applications.
Satisfied Customer
Gave me a better understanding of concepts, theories and tools to formalise and improve my current relationship management.
Satisfied Customer
The instructor was very professional and was able to explain each area thoroughly and is available for Q&A.
Satisfied Customer