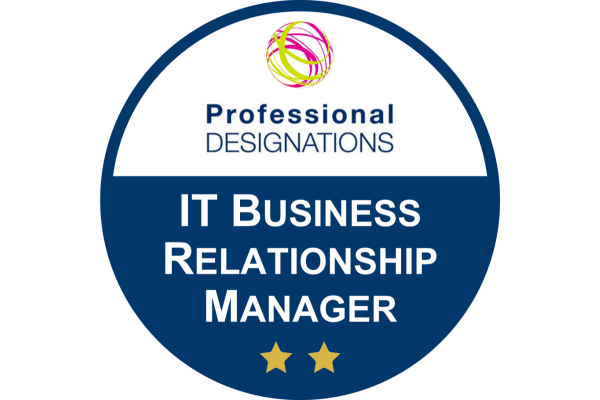 IT Business Relationship Manager Course & Examination
instructor-led
This three-day course will prepare you for the exam leading to the IT Business Relationship Manager (IT-BRM®) Certification.
In today's high-tech digital world, businesses are experiencing an unprecedented rate of change. At the centre of it all is IT. Within IT, Business Relationship Management processes and the specific role of the Business Relationship Manager (BRM) play a critical role in achieving successful business results.
Course Overview
There is no doubt that the key role of the BRM is becoming increasingly vital as business units come to depend more on technology to drive business value. The need to have a designated role to ensure strong communication between IT and other departments has never been greater. But to be effective, BRMs must possess a deep understanding of an organisation's business processes, goals and objectives. Acting as an intermediary between IT and other departments, a BRM plays a big part in reducing business and IT barriers within an organisation.
The IT Business Relationship Manager Certification course has been designed to give you the key teachings needed to be a highly effective BRM. It is presented in a systematic fashion and is based on customer feedback along with our own vast expertise, focusing on core principles of Business Relationship Management. The course delivers hands-on, interactive activities to help you:
Establish, build and maintain the relationship between IT as a service provider and internal business stakeholders
Identify business value and ensure that both IT and stakeholders understand the requirements to meet strategic goals
Identify business partner needs and requirements and ensure that the service provider can meet these needs as business needs change or evolve over time
Assist the business in understanding, measuring and leveraging the value of a service
There are three major differentiating components that run throughout the course.
The iBRM Framework - You will be introduced to the Integrated Business Relationship Management Framework (iBRMF) made up of five lifecycle phases: 
Business & IT Strategy

Customer Engagement

Plan, Build, Test & Deploy

Operational Excellence

Continual Improvement

 
Actionable BRM Maturity Model - You will be encouraged to assess and identify the maturity levels for both your role AND the organisation in each of the iBRM Framework phases – that's a total of 10 measurement points. The course then recommends actions that can be taken at each measurement point for advancement through to the next maturity level. 
Practical Hands-On Activities - Throughout the course you will be introduced to practical hands-on activities specially designed to build upon what you're learning and help you apply the new techniques and practices back at work. 
Additionally, this course is organised and structured with an intuitively relatable flow where each topic in each module logically relates to the next, making it easy to follow and build upon.
Learning Outcomes
Understand the purpose, objectives and challenges of implanting a BRM practice
Understand the IT Business Relationship Organizational Model to discover how to form a true partnership between the service provider and business units
Understand the Integrated Business Relationship Management Framework (iBRMF) and critical skills, tools, business and operational metrics for each phase
Understand how to increase business relationship maturity based on where you are today and how the BRM role matures as the BRM practice becomes more entrenched in the organisation's DNA
Understand the value of BRM planning and creation tools such as voice of customer (VoC), critical to quality (CTQ), the Kano model, value stream mapping, SIPOC, Gemba walk, capability roadmapping and gathering business requirements
Learn how to perform a value-based project assessment
Understand the role of the IT Business Relationship Manager in Organisational Change Management
Who should attend
Individuals involved in strategic development, marketing, business analysis, business case development, planning transition, or business process design
A BRM can come from a range of IT-focused backgrounds such as senior project managers, senior IT service portfolio managers, business analysts, or anyone who has managed an IT service provider organisation
Anyone interested in maximising business value (Business Relationship Managers or those in similar roles, Quality Managers and Service Level Managers)
Prerequisites
There are no prerequisites for this course.
Exam & Certification
This course prepares participants for the exam leading to the IT Business Relationship Manager (IT-BRM®) Certification granted by Professional Designations:
Exam is 1 hour; 40 multiple-choice; closed book
You will receive an exam voucher for the web-based exam, to be scheduled after the course
A passing mark of 65% is required to receive your certificate
After completion of this course, you may apply for self-directed learning PDUs through PMI. Certificate of attendance is available upon request.
Course Material & Inclusions
This course comes with access to our e-materials. Material for this course will be provided as downloadable soft-copy files that can be viewed on a variety of devices. Attendees may print a hard copy of the files in whatever format best meets their needs.
Our virtual instructor-led classes include a $25 lunch voucher for each day (value of $75 for this 3-day course), this means you can get your lunch organised whether you do it from home or the office. The voucher is provided via email on the first morning of the course.  
IT Business Relationship Manager (IT-BRM®) online exam voucher plus a complimentary exam re-sit if you miss out on passing your certification the first time. 
A digital badge you can share with your network of your course achievement will be provided via email upon passing your certification exam. 
SFIA Skills and Industry Accreditation
This course enables participants to develop their knowledge and proficiency in the following Skills Framework for the Information Age (SFIA®) professional skills:
RLMT: Stakeholder relationship management
FEAS: Feasibility assessment
POMG: Portfolio management
BENM: Benefits management
REQM: Requirements definition and management
CIPM: Organisational change management
URCH: User research
This list gives the core SFIA skills covered by the course. Elements relevant to other SFIA skills may also be included to a lesser depth. Proficiency in a SFIA skill is measured by performance assessment and is achieved through actual substantial use of that skill in a real-world situation over some time. In course assignments and exercises undertaken through a course can demonstrate elements of the relevant skills which can then be further developed back in the workplace.  Acquiring new skills and building on existing skills, ideally occurs within the context of an agreed development plan for each person that ensures that their personal circumstances, strengths and development needs are met.
An amazing instructor who explained the content very clearly and at a very good pace. This was a good balance and approach to learning in a three day intensive period. I found the worked examples very practical and very relatable to the Defence industry sector I work in.
Satisfied Customer
Really good facilitation, kept me interested and shared so many practical applications.
Satisfied Customer
Gave me a better understanding of concepts, theories and tools to formalise and improve my current relationship management.
Satisfied Customer
The instructor was very professional and was able to explain each area thoroughly and is available for Q&A.
Satisfied Customer