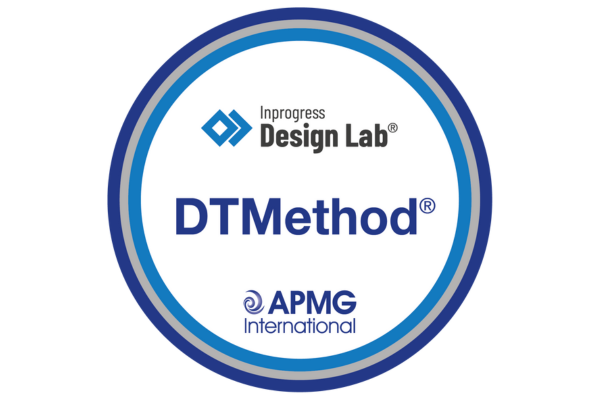 DTMethod® Foundation Course & Examination
instructor-led
Design Thinking (DT) is an approach to creating solutions. DTMethod allows you to easily introduce Design Thinking into your organisation and take advantage of this approach. DTRules & Roles incorporates the people centred approach and human-centred design in a structured ecosystem which helps to follow the process described by DTModel. It covers a variety of topics including teams, individuals, roles and how they interact using an active and iterative approach to apply the DTMethod.
Our DTMethod® Foundation course prepares you for the exam leading to the DTMethod® Foundation Certification.  
This course is held in our virtual classroom over 3-days with our expert instructor, meaning you can join the class and network with your peers from anywhere with an internet connection. 
Course Overview
Design encompasses a key aspect to every project, product, or solution. It determines how a consumer or business interacts with our product, and provides a key insight to how our organisation is perceived and interacted with. The key to design is often seen as a creative process, devoid of metrics and therefore more difficult to measure. 
Design Thinking combines the elements of three pillars to form the DTMethod®:  
DTModel, composed of 3 phases

 

DTTools, about 20 tools tailored to the DTModel

 

DTRules & Roles, , i.e. the rules (and roles) that should be followed when using DTMethod

 
DTModel explores in depth the three phases of the design process; Exploration, Creative and Construction. This is an crucial part of the process based on an iterative theory which allows for the structured design of a solution. DTTools delves deep into the mentality of a user, to use a variety of tools to understand who they are and use this knowledge to create a series of user stories and needs which drive product and project functionality. 
The benefits of Design Thinking Method: 
reduces risk to organisations by helping to assess if project is feasible before doing all the work

project cost reduction: fewer project changes resulting from stakeholders feedback

increase the benefits obtained by products, processes and services created by project management processes preceded by Design Thinking

reduce the feeling of uncertainty about the duration and level of people's involvement in the Design Thinking process

enable the incorporation of Design Thinking into the routine activity of projects,

 

prepare employees for effective work during Design Thinking workshops

increase the possibility of designing a good Solution
Learning Outcomes
Upon their successful completion of the course, attendees will: 
Understand DTMethod process: knowing the DTModel and using DTTools dedicated to each phase of the DTModel​

 

Get to know the tools used in DTMethod (DTTools)​

 

Understand the roles necessary to carry out the DTMethod​

 

Becoming aware of the DTDesigner role in any DTMethod process​

 

Understand the principles (DTRules) influencing effectiveness of Design Thinking process​

 

Understand the differences between online and stationary DTMethod processes

 
Who should attend
Individuals from several key disciplines may be interested in the Design Thinking Methodology: 
Project Managers

 

Change Agents

 

Product Developers

 

Facilitators

 

SCRUM Masters

 

Product Owners

 
All these roles provide key elements of the initiation and success of any project, product or service. And, as all these roles will need to provide key inputs which affect the design process it is essential a methodology is in place to support this. 
Prerequisites
There are no prerequisites for this course.
Exam & Certification
This course prepares participants for the examination leading to DTMethod® Foundation certificate, granted by APMG International
Exam is 40 minutes; closed book

 

50 multiple-choice questions, 33 correct answers is required to pass (65%)

 

You will receive an exam voucher for the web-based exam, to be scheduled after the course.

 

Upon passing your exam a digital badge will be awarded by APMG International.

 
Course Material & Inclusions
This course comes with access to our e-materials. Material for this course will be provided as downloadable soft-copy files that can be viewed on a variety of devices. Attendees may print a hard copy of the files in whatever format best meets their needs. 
A complimentary copy of the book, Design Thinking Basics: an introduction to the DTMethod book will be provided as an eBook on the first morning of the course. 
Our virtual instructor-led classes include a $25 lunch voucher for each day (valued at $75), this means you can get your lunch organised whether you do it from home or the office. The voucher is provided via email on the first morning of the course. 
DTMethod® Foundation online exam voucher, this is issued from APMG International (global examination body) on the first morning of the course. The schedule is available 24/7 so you can book and register for your exam at a time that suits. A webcam and internet connection is required.
Upon passing your certification course, a digital badge will be available for you to share with your network. 
An amazing instructor who explained the content very clearly and at a very good pace. This was a good balance and approach to learning in a three day intensive period. I found the worked examples very practical and very relatable to the Defence industry sector I work in.
Satisfied Customer
Really good facilitation, kept me interested and shared so many practical applications.
Satisfied Customer
Gave me a better understanding of concepts, theories and tools to formalise and improve my current relationship management.
Satisfied Customer
The instructor was very professional and was able to explain each area thoroughly and is available for Q&A.
Satisfied Customer