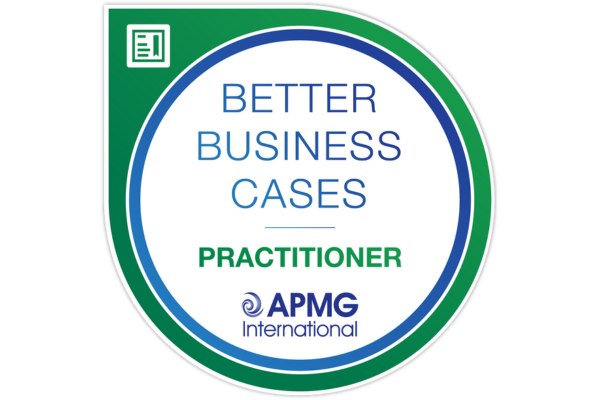 Better Business Cases Practitioner Course & Examination
instructor-led
Our 3-day Better Business Cases™ Practitioner course prepares you for the exam leading to the Better Business Cases™ Practitioner Certification.  The Better Business Cases Foundation course is a pre-requisite to attend this course.
This course is held in our virtual classroom with our expert instructor, meaning you can join the class and network with your peers from anywhere with an internet connection. 
Course Overview
Take your knowledge to the next level and become a business case professional able to apply the 'Five Case Model' to a real project through our Better Business Cases™ Practitioner course. Practitioner level training will enable learners to understand how to tailor the Five Case Model effectively to the development of a business case within an organisation environment supporting the approach. 
Better Business Cases training and certification is based on the 'Five Case Model' – the UK government's best practice approach to developing spending proposals and enabling effective business decisions. Organisations adopting this proven approach can expect a reduction in unnecessary spending and improved decision-making process, whilst project teams have a greater chance of securing necessary funding and support for change initiatives. 
Learning Outcomes
Upon their successful completion of the course, attendees will understand: 
The development lifecycle of a business case and the relationships between the five cases.

 

How to apply the steps in the business case development framework, in order to support the production of a business case, using the Five Case Model, for a given scenario.

 
Who should attend
Senior Responsible Owners (SROs), Programme Directors and other Directors with responsibility for the successful delivery of programmes and projects.

 

Project Managers, Project Team members and specialist advisers tasked with delivering a business case for investment.

 

Officers involved in the scrutiny and review of investment proposals.

 
Prerequisites
The Better Business Cases Foundation certification is the pre-requisite for this course.
Exam & Certification
This course prepares participants for the examination leading to Better Business Cases™ Practitioner certificate, granted by APMG International: 
Exam is 2.5 hours; open book exam (International Guide to developing the Project Business Case and International Guide to developing the Programme Business Case only)

 

4 objective testing questions, with 20 marks available per question

 

40 marks or more required to pass (out of 80 available) - 50%

 

You will receive an exam voucher for the web-based exam, to be scheduled after the course.

 

Upon passing your exam a digital badge will be awarded by APMG International.

 
Course Material & Inclusions
This course comes with access to our e-materials. Material for this course will be provided as downloadable soft-copy files that can be viewed on a variety of devices. Attendees may print a hard copy of the files in whatever format best meets their needs. 
The Better Business Cases syllabus is based on the Better Business Cases 'International Guide to Developing the Project Business Case' and 'International Guide to Creating the Programme Business Case', both available to download, free of charge, from the UK Government website: https://www.gov.uk/government/publications/the-green-book- 
international-guidance. It reflects the Foundation and Practitioner levels of the examination. 
Our virtual instructor-led classes include a $25 lunch voucher for each day (value of $75 for this 3-day course), this means you can get your lunch organised whether you do it from home or the office. The voucher is provided via email on the first morning of the course.   
Better Business Cases™ Practitioner online exam voucher, this is issued from APMG International (global examination body) on the first morning of the course. The schedule is available 24/7 so you can book and register for your exam at a time that suits. A webcam and internet connection is required. 
A digital badge you can share with your network will be provided via email upon passing your certification exam with APMG. 
An amazing instructor who explained the content very clearly and at a very good pace. This was a good balance and approach to learning in a three day intensive period. I found the worked examples very practical and very relatable to the Defence industry sector I work in.
Satisfied Customer
Really good facilitation, kept me interested and shared so many practical applications.
Satisfied Customer
Gave me a better understanding of concepts, theories and tools to formalise and improve my current relationship management.
Satisfied Customer
The instructor was very professional and was able to explain each area thoroughly and is available for Q&A.
Satisfied Customer