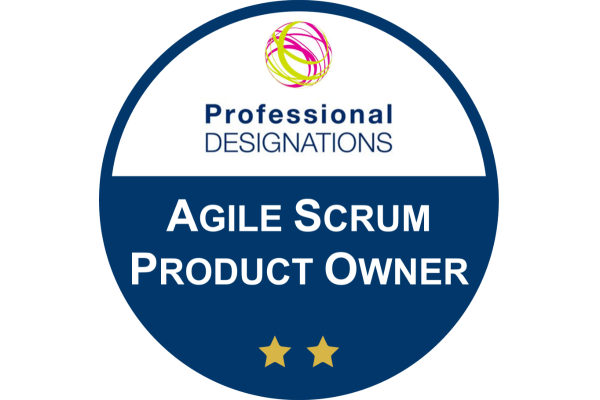 Agile Scrum Product Owner Course & Examination
instructor-led
This 3-day course provides all the core concepts, principles and practices associated with the product owner role. Through practical, hands-on exercises, participants will apply the knowledge gained from the course content, along with their personal experiences, to immediately bring greater value and productivity to the work they accomplish daily. 
This course is held in our virtual classroom with our expert instructor, meaning you can join the class and network with your peers from anywhere with an internet connection. 
Course Overview
In addition to the Scrum Master, another key role on the Scrum team is the Product Owner, who provides the business vision and requirements for the service and/or product. The Product Owner plays a vital part on the Scrum team by ensuring: 
Stories are defined to accurately describe user needs

 

Team members understand the value of the work to be done

 

The Team backlog of work is carefully prioritised

 

The "Definition of Done" is clear and well understood

 
This two-day Agile Scrum Product Owner certification course will provide you with the core concepts and practices of Agile and Scrum. It will also equip you with knowledge of the fundamental Product Owner accountabilities and responsibilities, as well as the skills for how to effectively manage the product backlog. 
Throughout this course, you will learn about the core concepts and practices intrinsic to being an Agile Scrum Product Owner. This course also fully prepares you for the exam leading to the Agile Scrum Product Owner certification. 
Pink Elephant's Agile Product Owner certification course is the only course that offers: 
Practical hands-on exercises in each module so students can view and assess their own existing products or projects through an Agile lens.

 

Interactive group exercises to promote collaboration so participants can share their own experiences, challenges and solutions with their peers while applying the course content.

 

A comprehensive self-assessment so course participants can assess their own, or their organisation's current skills and capabilities relevant to the Product Owner role to help determine strengths and weaknesses and to identify development/improvement opportunities.

 

A highly focused, in-depth approach to describing how the Product Owner role fits within the bigger picture of Agile and Scrum along with other roles in IT.

 

Course content featuring the most relevant and up-to-date information, including the most recent updates to the 

2020 Scrum Guide

.

 
Learning Outcomes

Upon the successful completion of this course, you will understand:
Basics of Agile Project Management
Basics of the Scrum framework
What it means to adopt value-driven product planning
Fundamentals of the product owner role
What it means to apply effective product backlog management, and why this is important. 
Who should attend
This course is designed for anyone in any part of the organisation whose focus is on maximising the delivery of value, finding adaptive solutions to complex problems, and increasing customer satisfaction. 
This includes but is not limited to:

Product Owners
Product Managers
Project Managers
Continuous Improvement Directors/Managers
IT Managers/Directors
Pre-requisites
There are no pre-requisites for this course, but we do recommend the Agile Scrum Essentials course, or equivalent, would be helpful. 

Exam & Certification

The Agile Scrum Product Owner exam is completed through Professional Designations Corp.
This is a 1 hour, closed book exam which consists of 40 multiple- choice questions - a passing score of 65% is required. The exam is completed online using a webcam and internet connection. 
Course Material & Inclusions
Material for this course will be provided as downloadable soft copy files that can be viewed in a variety of devices. Attendees may print a hard copy of the files in whatever format best meets their needs. 
Our virtual instructor-led classes include a $25 lunch voucher for each date (valued at $50), this means you can get your lunch organised whether you do it from home or the office. The voucher is provided on the first morning of the course. 
Agile Scrum Product Owner online exam voucher plus a complimentary Agile Scrum Product Ownder exam re-sit if you miss out on passing your certification the first time.

A digital badge you can share with your network will be provided via email upon passing your certification exam. 
SFIA Skills and Industry Accreditation 
This course enables participants to develop their knowledge and proficiency in the following Skills Framework for the Information Age (SFIA®) professional skills:
METL: Methods and Tools
PROD: Product Management
ITMG: Technology Service Management
REQM: Requirements definition and management
RLMT: Stakeholder Relationship Management
This list gives the core SFIA skills covered by the course. Elements relevant to other SFIA skills may also be included to a lesser depth. Proficiency in a SFIA skill is measured by performance assessment and is achieved through actual substantial use of that skill in a real-world situation over some time. In course assignments and exercises undertaken through a course can demonstrate elements of the relevant skills which can then be further developed back in the workplace.  Acquiring new skills and building on existing skills, ideally occurs within the context of an agreed development plan for each person that ensures that their personal circumstances, strengths and development needs are met.
An amazing instructor who explained the content very clearly and at a very good pace. This was a good balance and approach to learning in a three day intensive period. I found the worked examples very practical and very relatable to the Defence industry sector I work in.
Satisfied Customer
Really good facilitation, kept me interested and shared so many practical applications.
Satisfied Customer
Gave me a better understanding of concepts, theories and tools to formalise and improve my current relationship management.
Satisfied Customer
The instructor was very professional and was able to explain each area thoroughly and is available for Q&A.
Satisfied Customer