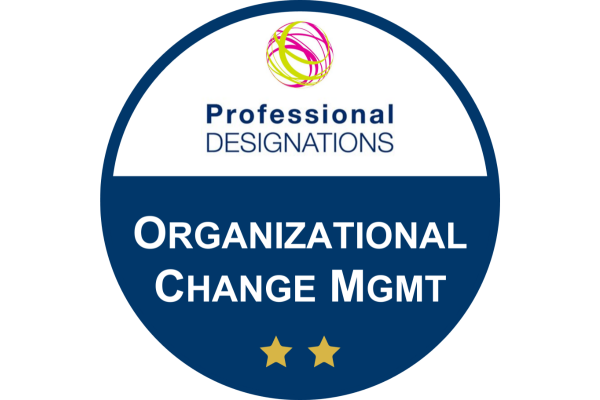 Organisational Change Management Course & Examination
instructor-led
Our Organisational Change Management (OCM) certification provides participants with an in-depth understanding of transformational leadership and change. OCM will deliver the core concepts, frameworks, models, and leadership practices intrinsic to organisational change management. This is reinforced by supplying practical, hands-on tools to participants who will engage in pragmatic exercises and case studies that will enable them to apply best practices for leading change.
This 2-day course is held in our virtual classroom with our expert instructor, meaning you can join the class and network with your peers from anywhere with an internet connection. 
Course Overview
This course provides attendees with the core concepts and leadership practices intrinsic to organisational change management, as well as strategies on how to gain employee commitment and overcome resistance. Participants will obtain knowledge of techniques for inspiring and leading staff to embrace and sustain change to keep the organisation moving in the right direction.
The course also goes beyond concepts and, using Pink Elephant's 20/20 change model, participants will engage in many practical exercises and case studies to apply best practices for leading change.
By using the 20/20 model as a framework, attendees learn how to define why a change is necessary, and why getting the right leadership support is important, as well as how to put together a detailed plan for the change, execute the change plan, and ensure the change is sustained in the organisation. There is a lot of discussion about how to practically apply what you have learned in class to your organisation.
What is Pink Elephant's 20/20 change model? 
Pink's 20/20 change model is a four-phase model that first clarifies your organisation's business objectives, ensures the change initiative will align with the over-arching business objectives, and embeds the change within the culture and practices of the organisation.
Here are the four phases of the Pink Elephant 20/20 Change Model: 
Phase I – Clarify and Align
Pinpoint the business objectives that your project or team needs to align with and determine what needs to be done to realise these objectives, as well as whether it's worthwhile to undertake this project right now.
Identify how this project will move the organisation closer to achieving its business objectives, which will make it clear how near/far your team's objectives are from those of the business.
Phase II – Plan and Approach
Determine the various steps that need to be taken to implement this change, including what needs to be done, by who, and with what resources.
Decide on an appropriate methodology and, as you proceed, continually validate progress to ensure you are on the right track.
Phase III – Engage and Implement
Determine how to engage with your people to empower them with everything they need to get the job done, as well as to accept and adapt to the change.
Remember that as a leader your job is to help others achieve stated goals.
Phase IV – Validate and Sustain
Determine if you have accomplished what you set out to do by:

Identifying key performance indicators at the outset and validating they are being achieved as you proceed.
Observing the impact of the change on customers and business goals.
Observing if employees are truly committed to the permanence of the change, working in a different and more efficient way, and if they are motivated to build on the change through additional improvements and benefits.
Learning Outcomes
Upon the successful completion of this course, you will understand: 
Use specific leadership theories and team dynamic concepts to manage people through the major phases of change – unfreeze, change, freeze
Use the Pink Elephant 20/20 organisational change model to lead and manage people through a change initiative
Apply a SWOT analysis to understand the organisation's external and internal environment to help leaders define the problem that needs to be solved and create a sense of urgency about it
Develop an organisational change management plan to define, agree-upon, and manage the work effort needed for the people side of a change initiative
Build an effective change leadership team and change agent network to support the change initiative
Develop an organisational change vision, strategy, and road map
Understand why a stakeholder engagement plan is important, and what the best practices are for creating and executing an effective plan
Understand why communication as well as training and development plans are important, and what the best practices are for creating and executing effective strategies and plans
Assess organisational change readiness to ensure the organisation has the right change capacity and capability
Provide the right leadership style to lead the planned change activities
Develop quantitative and qualitative user adoption measures to show the positive effects of the people side of change
Identify the activities required to formally close the organisational change management initiative and transfer ownership for sustaining the change to the relevant stakeholders
Use the templates from the course, based on Pink Elephant's 20/20 organisational change model, and understand the many key questions you need to ask under each of the model's components
Who should attend
This is a management-focused course and designed for those who lead, manage, and/or support organisational change initiatives, including:
Senior leaders/managers: CIOs, VPs, AVPs, directors
Program, project, and business managers
Change managers/leaders and change agents
Business analysts
HR and organisational development practitioners
Individuals aspiring to become change managers and leaders
Prerequisites
No prerequisites are required.
Exam & Certification
This course prepares participants for the examination leading to the Organisational Change Management (OCM) certification. The exam is administered by Professional Designations. 
One-hour, closed book

 

Consists of 30 multiple-choice questions (a passing score of 70% – 21 correct answers – is required)
After completion of this course, you may apply for self-directed learning PDUs through PMI. A letter of attendance is available upon request.  
Course Material & Inclusions
This course comes with access to Pink Elephant's e-materials. Material for this course will only be provided as downloadable soft-copy files that can be viewed on a variety of devices. Attendees may print a hard copy of the files in whatever format best meets their needs.
Our virtual instructor-led classes include a $25 lunch voucher for each day (value of $50 for this 2 day course), this means you can get your lunch organised whether you do it from home or the office. The voucher is provided via email on the first morning of the course.  
Organisational Change Management online exam voucher plus a complimentary Organisational Change Management exam re-sit if you miss out on passing your certification the first time.
A digital badge you can share with your network of your course achievement will be provided via email upon passing your certification exam. 
SFIA Skills and Industry Accreditation

After completion of this course, you may apply for self-directed learning PDUs through PMI. A letter of attendance is available upon request.
This course enables participants to develop their knowledge and proficiency in the following Skills Framework for the Information Age (SFIA®) professional skills, which are core to successful Organisational Change Management:
CIPM: Organisational Change Management
ORDI: Organisational Design and Implementation
RELM: Stakeholder Relationship Management
The course can also assist with gaining broader proficiency in METL: Methods and Tools by providing exposure to the use of organisational change methods. 
This list gives the core SFIA skills covered by the course. Elements relevant to other SFIA skills may also be included to a lesser depth. Proficiency in a SFIA skill is measured by performance assessment and is achieved through actual substantial use of that skill in a real-world situation over some time. In course assignments and exercises undertaken through a course can demonstrate elements of the relevant skills which can then be further developed back in the workplace.  Acquiring new skills and building on existing skills, ideally occurs within the context of an agreed development plan for each person that ensures that their personal circumstances, strengths and development needs are met.
An amazing instructor who explained the content very clearly and at a very good pace. This was a good balance and approach to learning in a three day intensive period. I found the worked examples very practical and very relatable to the Defence industry sector I work in.
Satisfied Customer
Really good facilitation, kept me interested and shared so many practical applications.
Satisfied Customer
Gave me a better understanding of concepts, theories and tools to formalise and improve my current relationship management.
Satisfied Customer
The instructor was very professional and was able to explain each area thoroughly and is available for Q&A.
Satisfied Customer