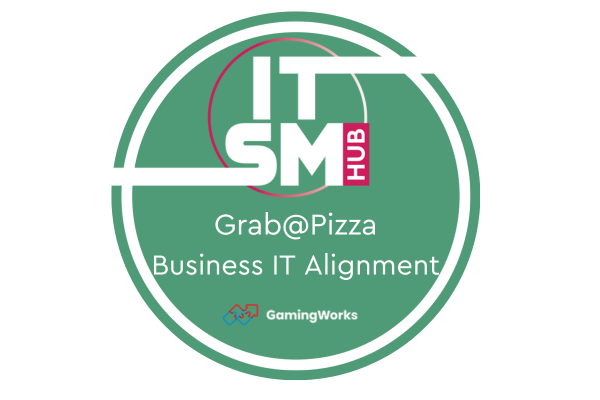 Grab@Pizza: IT/Business Alignment in Action
instructor-led
A business simulation that marries theory with hands-on practice. This 1-day workshop is highly interactive and combines the power of experiential learning with a practical discussion on how to create business value through IT using the principles of ITIL®, ITSM, Business Relationship Management and governance. 
This simulation game can held in our virtual classroom with our expert facilitator or bring us onsite to your place for a face-to-face session. 
Simulation Overview
During this simulation, your team runs the IT department of Grab@Pizza, one of the world's largest pizza companies and your task is to support the business with excellent IT products and services. The market is highly competitive which forces your business to design new products, develop powerful marketing and sales initiatives and develop a high level of operating excellence with a fast, low cost, and high quality and delivery process. IT plays an important role in enabling the business to achieve its strategic aims. Your challenge is to align yourself with business demands and organise your IT capabilities in such a way that the business can achieve its targets for lowering operations costs, increasing revenue and market share, and increasing customer satisfaction and loyalty.
During this interactive workshop participants will play six rounds, with each round representing one business month in the lifecycle of Grab@Pizza. In each round participants will:
Analyse the current performance of your IT management processes and organisation
Identify the business requirements and demands for IT solutions
Make decisions about resources, workload and priorities
Calculate the IT costs for this round and make investment decisions
Plan Application development activities and plan the Change Calendar
Propose and implement improvements to align IT performance to business needs
COBIT, BRM and ITIL®
COBIT
The game can be used in combination with COBIT foundation or implementation training, and can also be used during COBIT implementation initiatives to create awareness, buy-in and help capture improvements. When played in this context we can focus on aspects such as:
Exploring business drivers and stakeholder needs;
Using the goals cascade to align business and IT goals;
Understanding RACI requirements for both Business AND IT;
Balancing decision making and priority mechanisms around 'Benefits Realisation', 'Resource optimisation' & 'Risk optimisation';
Using COBIT to assess capabilities, agree and prioritize improvements between game rounds.
Business Relationship Management (BRM)
The game can be used in combination with the BRMP or CBRM training. It can also be used by BRM teams to promote BRM within their own organisations. Bringing Business and IT people together to explore and agree the role and importance of BRM and to capture improvements.
When played in this context we can focus on aspects such as:
Moving BRM from an 'order taker' to a 'strategic partner';
Understand the role of BRM as 'Connector', 'Orchestrator', 'Navigator';
Understanding sources of 'Value Leakage' and how to optimize 'Value realisation';
Explore the BRM role in Service Management and how frameworks such as COBIT and ITIL®
ITIL® Practitioner
The game can be used in combination with ITIL® training, particularly ITIL® Practitioner, as it provides ample opportunity to apply ITIL® theory and experiment with ITIL® practitioner TOOLKIT items in a case organisation. It can also be played within organisations as a CSI instrument, and to support OCM (Organisational Change Management) initiatives to create-buy in and surface resistance. When played in this context we can focus on aspects such as:
Using the Guiding principles 'focus on value' & 'design for experience' to align with business needs;
How to effectively communicate and collaborate E2E;
Using CSI between game rounds to populate a CSI register and prioritise improvements to 'progress iteratively';
Using measurements and metrics that relate to business value and outcomes
Learning Outcomes
The following aspects will be experienced and discussed:
Deliver agreed IT Services with limited resources, in terms of budget and people
Minimise IT costs by optimising ITSM people, processes and supporting technology
Use Suppliers effectively
Prioritise IT investments and workload, in terms of Maintenance & Support and Innovation & Development
Translate Business Requirements into the required IT Services
Plan application development activities, prioritising the projects/changes planned on the Change Calendar
Minimise potential business risks to continuity caused by poor availability, capacity and security of the IT services
Realise and demonstrate business value
Who should attend
The one-day workshop is designed for IT practitioners at any and all levels in Software Development, Operations and IT Service Management. The Integrated Service Management Experience: MarsLander interactive training workshop is especially beneficial for IT organisations that want to bring more value to their business.
Prerequisites 
There are no pre-requisites for this workshop, a basic ITSM knowledge is beneficial. 
We can run this workshop following on from our ITIL 4 and BRM certification courses, bringing all the concepts to life.  
Exam & Certification
There is no examination for this workshop. This workshop is designed to help translate knowledge from the our certification offerings. 
An amazing instructor who explained the content very clearly and at a very good pace. This was a good balance and approach to learning in a three day intensive period. I found the worked examples very practical and very relatable to the Defence industry sector I work in.
Satisfied Customer
Really good facilitation, kept me interested and shared so many practical applications.
Satisfied Customer
Gave me a better understanding of concepts, theories and tools to formalise and improve my current relationship management.
Satisfied Customer
The instructor was very professional and was able to explain each area thoroughly and is available for Q&A.
Satisfied Customer