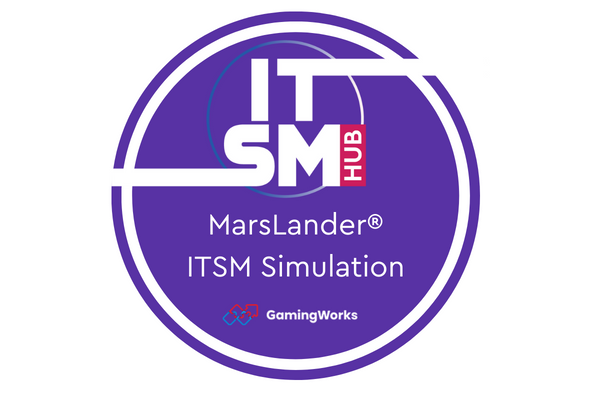 MarsLander®: ITSM Simulation
instructor-led
MarsLander is an interactive workshop held in a simulated environment.  This simulation provides you with an opportunity to experiment and learn in a remote setting.
MarsLander helps to translate IT Service Management theory into practice, and to experiment and learn how to effectively communicate and collaborate. Aimed at realising results and capturing agreed actions to takeaway and apply in your organisation.
This simulation game can held in our virtual classroom with our expert facilitator or bring us onsite to your place for a face-to-face session. 
Simulation Overview
Many organisations have implemented ITIL® and are searching for solutions to become more Agile and Lean. This simulation will help you understand how to move from your current way of working into a more Agile and Lean way of working and thinking. 
Discover how your team interacts and works together while responding to rapidly-changing circumstances in this exciting and experiential simulated environment.
As the Integrated Service Management Experience: MarsLander scenario progresses, participants will learn how to use Integrated Service Management – proven ITSM capabilities and Lean, Agile and DevOps practices – to produce tangible results and achieve all mission goals.
This interactive training workshop provides a safe environment where your team can experiment and explore new ways of working together to quickly respond to new business requests and deliver fast, reliable, safe and error-free solutions. They will accomplish this by changing their respective mindsets, learning to see the customer as their primary focus and implementing continual learning and improvement.
The mission of your team is clear:
Launch a rocket with the MarsLander on board, bring it to Mars and collect valuable data for Universities and Research Centres.
Your challenge is to support the Mission Centre, helping ensure they are able to achieve all mission goals. The Mission Director is managing the Mission Centre and leads a team consisting of Flight Operation, Navigation and communication experts. These specialists manage the flight plan of the mission in accordance with mission goals and contractual agreements with the customers and suppliers.
The Mission Support Team consists of Support Engineers, Test Engineers and Change Management. They will resolve all issues that occur during the mission. The Development Team develops and maintains applications, features and application fixes. Vendors are supporting the Mission Support Team with data communication services and data storage services. The Service Manager will manage the Service Design, Service Delivery and Service Improvement.
Each participant will play a role and has specific tasks, responsibilities and authority.
Participants must discuss and agree how they will work together as a team. Our Business Simulations are facilitated by trainers who provide the team with support and instructions and who also help the team reflect on their experiences and what they have learned. The facilitator can also help reflect on how to translate the learning points into the participants own working environment. MarsLander is played in a number of rounds so that participants can see, feel and experience improvements as the simulation progresses. It is the reflection moments between rounds when people learn and make improvement choices that will have an impact in the next round.
Learning Outcomes
This simulation is about exploring and experiencing how you can transform your current IT organisation into a more Agile and Lean organisation. The following aspects will be experienced and discussed:
How can service teams help and how to create high performing teams?
How can we visualise our work, using KanBan?
How can we increase the flow of work?
How can we integrate vendors into our services?
How to work closer together with development?
How to continuously improve our services?
How to become a flexible service organisation that respond rapidly to changing demands?
How to become more customer focused, and develop this 'customer thinking' into our teams?
How to effective manage workload (end-to-end) and how to reduce unplanned work?
How to increase customer and employee satisfaction
Who should attend
The one-day workshop is designed for IT practitioners at any and all levels in Software Development, Operations and IT Service Management. The Integrated Service Management Experience: MarsLander interactive training workshop is especially beneficial for IT organisations that want to bring more value to their business.
Prerequisites 
There are no pre-requisites for this workshop, a basic ITSM knowledge is beneficial. 
We can run this workshop following on from our ITIL 4 Foundation certification course, bringing all the concepts to life.  
Exam & Certification
There is no examination for this workshop. This workshop is designed to help translate knowledge from the ITIL 4 certification program. 
An amazing instructor who explained the content very clearly and at a very good pace. This was a good balance and approach to learning in a three day intensive period. I found the worked examples very practical and very relatable to the Defence industry sector I work in.
Satisfied Customer
Really good facilitation, kept me interested and shared so many practical applications.
Satisfied Customer
Gave me a better understanding of concepts, theories and tools to formalise and improve my current relationship management.
Satisfied Customer
The instructor was very professional and was able to explain each area thoroughly and is available for Q&A.
Satisfied Customer