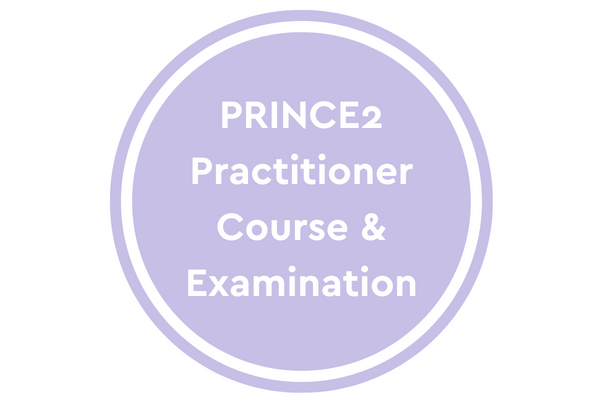 PRINCE2® (version 6) Practitioner Course & Examination
instructor-led
The PRINCE2 Practitioner, 6th edition (formally PRINCE2® 2017) course prepares you for the exam leading to the PRINCE2® Practitioner Certification. This two-day certification course provides guidance for those seeking to become effective project contributors.
While the Foundation course provides theory, the Practitioner course teaches you how to practically apply the PRINCE2 concepts within a project environment.  
This 2-day course is held in our virtual classroom with our expert instructor, meaning you can join the class and network with your peers from anywhere with an internet connection. 
Course Overview
PRINCE2 Practitioner extends the knowledge acquired at Foundation level to enable you to apply and tailor the method in a live working environment and is suitable for anyone managing projects. This could be as part of a formal project management function or a role which involves project management as part of day-to-day work. The Practitioner certification aims to confirm that you have sufficient knowledge and understanding to apply and tailor the method in a range of different project environments and scenarios.  
Attaining your Practitioner qualification is only one part of becoming a successful and effective project manager. It is important to ensure that you supplement this with real-life experience working on projects, in addition to investing in personal professional development and wider training. 
To assist is passing the PRINCE2 Practitioner examination, candidates are eligible to use the official PRINCE2 6th edition publication. ITSM Hub include this publication when attending our PRINCE2 Foundation course and examination.  
Learning Outcomes

At the end of your PRINCE2 Practitioner course, candidates will have knowledge of: 
How to tailor and evaluate the application of PRINCE2 to a project's size, complexity, risk and importance

 

How to align a business case to a project scenario and to evaluate and maintain the business case alignment throughout the lifecycle of a project

 

How to develop a communication management strategy considering processes and roles

 

How to apply a project communication management strategy

 

How to apply and tailor the organisation theme within a project environment

How to develop, apply, tailor and evaluate the plans, risk and change themes within a project lifecycle

 

How to develop a quality management strategy, including to:

Prepare a quality audit trail
Derive customer quality expectations
Review quality
Integrate project quality with Quality Management Systems

How to prepare, apply and evaluate a work package, lesson log, checkpoint report, highlight report, end stage report, exception report, end project report and a lessons report
PRINCE2 project processes, including how to apply them and how to tailor them within a project environment; specifically:

Starting up a project
Directing a project
Initiating a project
Managing stage boundaries
Controlling a stage
Managing product delivery
Closing a project
Who should attend

This certification is aimed at project managers, aspiring project managers and anyone who manages projects. It is also relevant to other key staff involved in the design, development and delivery of projects, including:
Project Board members (

e.g.

Senior Responsible Owners),

Team Managers (

e.g.

Product Delivery Managers),

Project Assurance (

e.g.

Business Change Analysts),

Project Support (

e.g.

Project and

Programme

Office personnel) and

Operational line managers/staff

.

 
Prerequisites

To take the PRINCE2 Practitioner examination you must provide proof of having passed one of the following: 
PRINCE2 5th Edition (Foundation or Practitioner)

 

PRINCE2 6th Edition (Foundation)

 
Exam & Certification

This course prepares you for the examination leading to the PRINCE2 Practitioner certificate. The exam is an open book exam, 150 minutes in duration and includes 68 questions. You must attain a passing mark of 55% to attain your PRINCE2 Practitioner certificate. This exam is administered by PeopleCert.  
Please ensure that before you book an exam where a prerequisite is required, that you hold verified proof of completion of that prerequisite (i.e. certificate, or letter from Axelos or former Examination Institute confirming you hold a current certification). Your examination results will be withheld until the correct prerequisite is provided to PeopleCert. If you are unable to provide the required prerequisite, then you will need to successfully complete the prerequisite before the higher-level exam result is released. 
The PRINCE2 Practitioner certification will expire after 3 years. In order to maintain your qualification and ensure there are no gaps in your Practitioner status, you can either retake the PRINCE2 Practitioner Exam before the expiry date or maintain your certification through CPD points and a digital badge. If you choose to follow the CPD route you will need to purchase a subscription to My PRINCE2 which costs £50 + VAT per year.
Course Material & Inclusions

Material for this course will only be provided as downloadable soft copy files that can be viewed on a variety of devices. Attendees may print a hard copy of the files in whatever format best meets their needs.
The official publication; Managing Successful Projects with PRINCE2 6th edition is required for this course and is included as an eBook with the PRINCE2 6th edition Foundation level certification. If you don't have the publication, please contact us at info@itsmhub.com.au to ensure you meet the prerequisites of this course. 
Our virtual instructor-led classes include a $25 lunch voucher (valued at $50), this means you can get your lunch organised whether you do it from home or the office. The voucher is provided via email on the first morning of the course.  

PRINCE2 Practitioner online exam voucher plus a complimentary PRINCE2 Practitioner exam re-sit if you miss out on passing your certification the first time.
SFIA Skills & Industry Accreditation

After completion of this course, you may apply for self-directed learning PDU's through PMI. A certificate of attendance is available upon request.
This course enables participants to develop their knowledge and proficiency in the following Skills Framework for the Information Age (SFIA®) professional skills:
METL: Methods and Tools

PRMG: Project Management
PROF: Portfolio, Programme and Project Support
QUMG: Quality Management
This list gives the core SFIA skills covered by the course. Elements relevant to other SFIA skills may also be included to a lesser depth. Proficiency in a SFIA skill is measured by performance assessment and is achieved through actual substantial use of that skill in a real-world situation over some time. In course assignments and exercises undertaken through a course can demonstrate elements of the relevant skills which can then be further developed back in the workplace.  Acquiring new skills and building on existing skills, ideally occurs within the context of an agreed development plan for each person that ensures that their personal circumstances, strengths and development needs are met.
An amazing instructor who explained the content very clearly and at a very good pace. This was a good balance and approach to learning in a three day intensive period. I found the worked examples very practical and very relatable to the Defence industry sector I work in.
Satisfied Customer
Really good facilitation, kept me interested and shared so many practical applications.
Satisfied Customer
Gave me a better understanding of concepts, theories and tools to formalise and improve my current relationship management.
Satisfied Customer
The instructor was very professional and was able to explain each area thoroughly and is available for Q&A.
Satisfied Customer