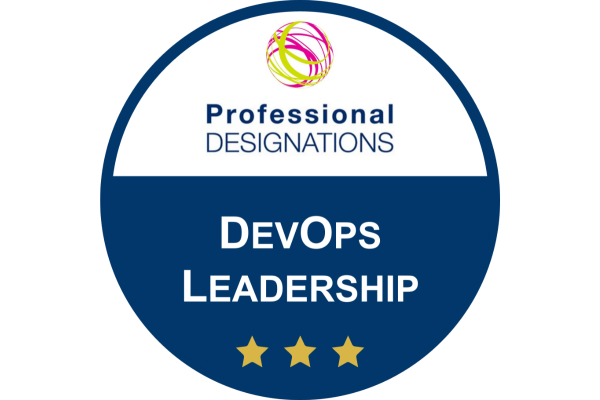 DevOps Leadership Course & Examination
instructor-led
The DevOps Leadership certification course builds on the learnings from the DevOps Essentials™ certification course with a leadership perspective on the challenges inherent in implementing DevOps. These challenges, first introduced in the 'Full Stack' approach, span the creation and acceptance of new organisational culture, new principles, and processes, and moving the enterprise toward a new model for success. 
This is a 3-day certification course that is held in our virtual classroom. 
Course Overview
The DevOps Leadership certification course, designed by Pink Elephant's expert leadership consultants, builds on the learnings from the DevOps Essentials™ certification course which introduced the 'Full Stack' approach to DevOps, 15 essential practices and a DevOps Assessment tool – all unique to the industry! 
A key issue today is that many organisations are uncertain of how to take the next steps to realise the full business benefits of a DevOps transformation. While their teams agree that change is necessary to remain competitive and support business objectives, most organisations are struggling with how to move the dial on their DevOps initiatives all the way up to full adoption. 
We show you how to do it!  
Pink's DevOps Leadership certification course is different because it provides a true business- focused approach and not the more operational view provided by competitors' courses. 
Another major differentiator is that this DevOps Leadership course will introduce Pink Elephant's 20/20 Integrated Change Management Model, an innovative approach to help leaders and organisations clearly see the complete path to a successful DevOps transformation. 
Step-by-step, attendees are taken through the model to understand how to lead the implementation of the 15 essential practices of DevOps learned during the DevOps Essentials course, and how to establish a culture of collaboration and effectively manage the Full Stack. 
Attendees will also leverage the DevOps assessment tool first introduced in DevOps Essentials, to assess the maturity of their current DevOps journey and based on their future vision, design and implement a customised roadmap to lead cross-functional teams focused on innovation and collaboration to drive business value. 
Learning Outcomes
Upon successful completion of DevOps Leadership; you will understand:
The challenges and solution options for implementing the 15 DevOps practices including the Full Stack of DevOps culture, practices and automation at your organisation

 

The major phases of a DevOps transformation using Pink's 20/20 Integrated Change Management Model

 

How to establish, lead, support and nurture cross-functional teams

 

How to establish a culture of engagement and collaboration

 

How to lead teams focused on innovation

 

How to determine a course of action for continuous deployment based on analysis of fully automated and shared tool chain / digital backbone

 

How Leaders leverage the Three Ways to take advantage of Lean, Agile and DevOps practices to improve flow, feedback and experimentation

 

How to plan a phased approach to automation, including code and artifact management, orchestration and monitoring, testing, configuration, provisioning, deployment, ticketing and dashboard

 

How to select the correct service and project management approach from within the enterprise portfolio of practices

 

How Leaders can align Agile teams with the overall focus and strategic intent of the organisation

 
Who should attend
This advanced level course is designed for anyone in IT Service Management, Operations or Software Development with the responsibility for transforming, establishing and sustaining the 'Full Stack' of DevOps culture, practices and automation. 
Prerequisites
The DevOps Essentials certification is a pre-requisite for this course. The DevOps Essentials course provides the knowledge needed for the 15 DevOps practices and the DevOps Assessment Tool - unique to these courses. 
Exam & Certification
This course prepares participants for the examination leading to the DevOps Leadership certificate, granted by Professional Designations:
Exam is 1 hour; 20 multiple-choice; closed book
You will receive an exam voucher for the web-based exam, to be scheduled after the course
After completion of this course, you may apply for self-directed learning PDU's through PMI. A certificate of attendance is available upon request. 
Course Material & Inclusions
Material for this course will only be provided as downloadable soft copy files that can be viewed on a variety of devices. Attendees may print a hard copy of the files in whatever format best meets their needs, and can use the files under the Pink Elephant Terms of Use.  
Our virtual instructor-led classes include a $25 lunch voucher for each day (valued at $75), this means you can get your lunch organised whether you do it from home or the office. The voucher is provided via email on the first morning of the course.  
DevOps Leadership online exam voucher plus a complimentary DevOps Leadership exam re-sit if you miss out on passing your certification the first time. 

A digital badge you can share with your network of your course achievement will be provided via email upon passing your certification exam. 
SFIA Skills and Industry Accreditation 

This course enables participants to develop their knowledge and proficiency in the following Skills Framework for the Information Age (SFIA®) professional skills:
METL: Methods and Tools
SLEN: Systems and Software Lifecycle Engineering
DESN: System Design
SWDN: Software Design
PORT: Software Configuration 
TEST: Testing
This list gives the core SFIA skills covered by the course. Elements relevant to other SFIA skills may also be included to a lesser depth. Proficiency in a SFIA skill is measured by performance assessment and is achieved through actual substantial use of that skill in a real-world situation over some time. In course assignments and exercises undertaken through a course can demonstrate elements of the relevant skills which can then be further developed back in the workplace.  Acquiring new skills and building on existing skills, ideally occurs within the context of an agreed development plan for each person that ensures that their personal circumstances, strengths and development needs are met.
An amazing instructor who explained the content very clearly and at a very good pace. This was a good balance and approach to learning in a three day intensive period. I found the worked examples very practical and very relatable to the Defence industry sector I work in.
Satisfied Customer
Really good facilitation, kept me interested and shared so many practical applications.
Satisfied Customer
Gave me a better understanding of concepts, theories and tools to formalise and improve my current relationship management.
Satisfied Customer
The instructor was very professional and was able to explain each area thoroughly and is available for Q&A.
Satisfied Customer